Shinobi
(2006)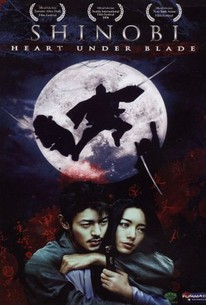 AUDIENCE SCORE
Critic Consensus: No consensus yet.
Movie Info
Enraged by decades of treachery and mistrust, two magical samurai clans go to war despite the love that was meant to keep the peace in director Ten Shimoyama's feudal action entry. The year is 1614, and Japan has been unified under supreme shogun Tokugawa. Though the love shared between Gennosuke of Kohga and Oboro of Iga should have been enough to end the cycle of suffering and strife in the two warring villages, the spirit of vengeance has gained too much momentum and the people have become possessed by their own insatiable rage. Now, as a conspiracy set into motion by Tokugawa causes the violence to swell yet again, Gennosuke pushes for peace as Oboro chooses to fight. In a time when every ninja in the land has been bestowed with amazing superhuman powers, the ultimate war is about to get under way.
Critic Reviews for Shinobi
All Critics (3) | Top Critics (2) | Fresh (1) | Rotten (2)
What a setup! What a let-down!
November 17, 2006 | Rating: 1/4

Named for ninjas equipped with superhuman capabilities, Ten Shimoyama's Shinobi is equal parts tragic love story and fantastical martial arts showcase.
Shinobi may be nearly incoherent, but it plays like X-Men crossed with Romeo and Juliet, which is at least a little cool. And, as I say, it's an absolutely ravishing vision.
February 9, 2007 | Rating: B
Audience Reviews for Shinobi
Not based on a manga comic this time amazingly, but based upon a fantasy novel by the name of 'The Kouga Ninja Scrolls'. Personally I haven't heard of this so I cannot compare to the film adaptation but after some research the period in which this film is set ('Sengoku period') is actually a real Japanese period. The ruler at this time in the film is also based on a real person, Tokugawa Ieyasu of the 'Tokugawa Shogunate'. Also the two ninja clans in the film are also based on two real historical schools of Ninjutsu, 'Iga' and 'Kouga'. This all really adds to the film as it takes it from a basic ninja action film into the realms of epic historical. So yes its another Japanese film based around ninjas and its period set with hints of fantasy, fable and myth, fear not. Much better in quality than most, the plot is pretty much 'Romeo and Juliet' set in Japan, the two main characters are lovers who belong to warring ninja clans and you know what that means. This concept is actually really cool as it invites some typically awesome Eastern action sequences with some equally strong emotional scenes boasting nice performances. The main crux of the plot (and the best part) is the fact that each ninja clan must choose five of their best warriors to battle each other to the death to see which clan dominates basically. Little do they know that the Japanese ruler of the time has done this on purpose so they wipe each other out and he can reign without threat from either clan...crafty. Yes its highly unoriginal both in terms of the Shakespearean play side of things and the fact Japan must churn out tonnes of Samurai/ninja period flicks every year but it all looks splendidly gorgeous. I've said this before with these type of films (I really am trying not to say 'Japan' so much but its hard) but the costumes, characters, scenery, weapons, action and camera work is all so visually stunning, I dunno how they do it but its just a work of art at times. Big characters, natural subtle colour schemes and beautiful locations, a standard formula for Japanese period flicks. The film is slow at times but the action is superbly created mixing traditional arts with the much loved and over used fantasy elements (resorting in the usual average looking cgi I'm afraid). Of course the five ninja from each clan have their own fighting skills and weapons so it becomes almost like a videogame of sorts (no surprise there really) but its bloody good to watch. In the end good performances prevail as the lovers (who were part of the best five warriors on each side to fight if you hadn't guessed) must face each other in a whirlwind of emotion and slow motion action which brings the doomed couples tragedy to a conclusion, yep its pretty obvious really. On a final note I must give kudos to the cast who all make the film as good as it is. The two leads really do look beautiful together (just see the films main poster, so gentle and warm yet also striking) and make you feel the love and hurt throughout, Yukie Nakama is stunning. As for the rest I'm not sure who they all are but they all look wise, respectful and serious, just what you need really. And yes old Tak Sakaguchi is in there again, the man is in everything!
Phil Hubbs
Super Reviewer
This movie was pretty good. As with most films in this genre, the scenery was absolutely beautiful..... the colors were nice and rich. The acting was really good. You (obviously) need to suspend your belief in some of the fight scenes, and remember that this is a fantasy movie. However, if you do, your efforts will be rewarded.
Cynthia S.
Super Reviewer
18/03/2010 (DVD) Tragical Romance, Magical Powers, Super Natural Combats, this is "Romeo and Juliet" Ninja style! A discomforting alliance, a forbidden love and a twist of fate. They have Faith in love and yet they are destined to kill. It's mysterious, dark and mystical, a terrific movie to watch and both sexes will get a kick out of it. Awesome cinematic themes through out the film. There is a Anime to this called "Basilisk" and its just as cool, 5 volumes that equals 24 episodes cool!
EightThirty .
Super Reviewer
Shinobi Quotes
There are no approved quotes yet for this movie.