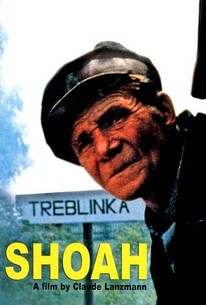 Shoah
1985, Documentary, 9h 21m
37 Reviews
1,000+ Ratings
What to know
critics consensus
Expansive in its beauty as well as its mind-numbing horror, Shoah is a towering -- and utterly singular -- achievement in cinema. Read critic reviews
Where to watch
Rent/buy
Rent/buy
Rate And Review
Movie Info
Director Claude Lanzmann spent 11 years on this sprawling documentary about the Holocaust, conducting his own interviews and refusing to use a single frame of archival footage. Dividing Holocaust witnesses into three categories -- survivors, bystanders and perpetrators -- Lanzmann presents testimonies from survivors of the Chelmno concentration camp, an Auschwitz escapee and witnesses of the Warsaw Ghetto Uprising, as well as a chilling report of gas chambers from an SS officer at Treblinka.
Audience Reviews for Shoah
Documentaries are wonderful in terms of presenting an important subject for a viewing audience. The medium has had its fair share of meaningful films. Some documentaries have been very important in terms of its subject. Shoah is such a film. The film, with a run time of over nine hours and directed by Claude Lanzmann is the definitive work on the Holocaust. With extensive interviews with survivors and a few guards and others involved in this horrible tragedy, which gives a comprehensive understanding of the entire ordeal. Brilliantly crafted, with pure subtlety, not using archive footage, Lanzmann paints a vivid picture of this tragedy with interviews and filming the locations where it all happened. I've seen my fair share of documentaries on the subject, and read plenty of books, but Claude Lanzmann's picture is the most comprehensive, detailed and in depth work that will definitely give a better understanding of the horrors of the Holocaust. Even with its terrifying and tragic subject, Shoah is a beautiful, subtle film that manages to be very powerful and eye opening. Never before or since has a documentary been this important. Shoah is a film that needs to be seen due to its subject. Yes, the film is very long, but in watching it, you'll get a better understanding of the Holocaust. Shoah is hard to watch, but ultimately it is necessary so that we can comprehend this tragedy that claimed the lives of so many people. This film is an important history lesson, and it is a film that will stay with you long after you've seen it. The film is nine hours, and is long, like I've stated before, but it covers so much detail that it is necessary to tell the entire story of the Holocaust. Claude Lanzmann has crafted something truly powerful; here. This is an unmatched picture that is in a category of its own, and even if you have doubts about watching it due to its run time, you must definitely give this documentary a shot, you won't regret it. If you've ever been interested in the subject, Shoah is the perfect film to watch and you'll walk away from it with a better understanding of the cruelty of the Nazis towards the Jews during the Second World War. This is among the most powerful films ever made, and if you end up watching it, I think you'll agree.