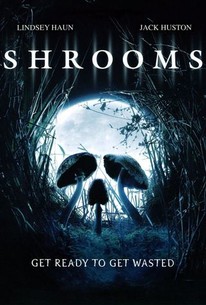 Shrooms
2006, Horror, 1h 24m
18 Reviews
10,000+ Ratings
Where to watch
Rent/buy
Rent/buy
Rent/buy
Rate And Review
Movie Info
Wasted college students meet grisly ends during a camping trip in Ireland.
Audience Reviews for Shrooms
So dumb...but that's to be expected. At least this movie is entertaining at times lol.

The Cow: I mean dead fucked.  "Get Ready To Get Wasted" Shrooms is a movie that offers an interesting premise, but by the twenty minute mark, I realized what I really knew all along. It's nothing new. It's the same old, same old slasher, but the characters are going to be on mushrooms. It creates some solid, trippy imagery that will be something of a fond memory of anyone who has ever tripped before, but as far as a movie to watch; it's nothing special.  So a group of friends travel to Ireland to meet up with a friend and go into the woods, camp, and find some magic mushrooms in the woods. The first night out one of the girls eats some mushroom that she shouldn't have. One that had a black dot on the top and goes into a seizure. She doesn't die, but the mushroom gives her the ability to see what she doesn't want to. She can see what's going to happen before it does. Soon it dives into exactly what you knew would happen from the very beginning. It's nothing more than another slasher trying to be the next "cult" hit. I liked the first twenty minutes or so where we were getting to know the characters. The acting was bad, but I expected that so it was no big deal. Also, the movie actually was visually not too bad. It created its atmosphere out of the cloudy, damp Ireland woods setting. Nothing original, but not a bad setting at all.  If you want to watch a movie that is just another slasher because you love slashers, Shrooms may be worth a shot. If you want to see something new and original, it's not here in Shrooms. There's definitely an audience for this out there. You know those guys who love psychedelics love shit that's based off of psychedelics. The only problem is the audience for this particular film isn't that wide ranging.

Well that was a waste of time.

You need to be on Shrooms to keep up with what's happening, Boring deaths, Worse acting, By the time you know about the twist at the end you lose interest and just wanting it to end.
See Details