The Siege of Firebase Gloria
(1989)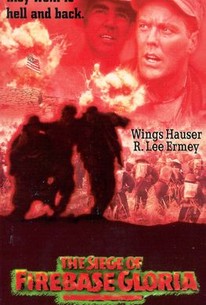 AUDIENCE SCORE
Critic Consensus: No consensus yet.
The Siege of Firebase Gloria Photos
Movie Info
Based on the true story, this film follows the struggle of a group of brave marines as they attempt to defend Firebase Gloria during the Tet Offensive, even though they are greatly outnumbered.
Critic Reviews for The Siege of Firebase Gloria
Audience Reviews for The Siege of Firebase Gloria
A pretty solid mash up of survival-thriller and Vietnam-Fetishist's dream. A bunch of jive-talking tough guys (amongst which you can enjoy the antics of R.Lee Ermey, famous for his role in Full Metal Jacket) who pave their way through the bloodsoaked country of Vietnam just to find themselves in quite a pickle when they have to defend a rundown outpost against waves and waves of enemies, all the while their numbers are dwindling and so are their morals. The characters are pretty one-dimensional, all of which follow one clichee 'Nam formula one way or another, but just like a pulp western or mob film of the 30s, it works and the interplay creates a - while not surprising - enjoyable melody of carnage, self-loathing, questionable sense of duty and rattling machine guns. One thing I did liked was the gritty set, location and violence, but then again, i do have a sort of a thing for films dealing with this particular conflict. Another thing I want to mention is the inclusion (even if it is to a minimum degree) the narrative viewpoint of the Vietcong and its general, which - just like the G.I.s - question the sense of the whole war and atrocities and are slightly promoted from Stallone-Style cannonfodder to soldiers with an agenda of their own - an agenda that is not that much removed from the American's. A good action flick for boys whole like their cinematic junk food with a tad of old school.
Henrik Schunk
Super Reviewer
The Siege of Firebase Gloria Quotes
There are no approved quotes yet for this movie.