Silent Hill
(2006)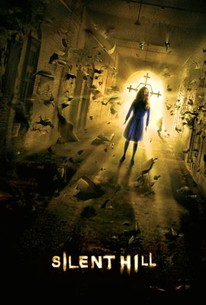 TOMATOMETER
AUDIENCE SCORE
Critic Consensus: Silent Hill is visually impressive, but as with many video game adaptations, it's plagued by inane dialogue, a muddled plot, and an overlong runtime.
Movie Info
The eerie and deserted ghost town of Silent Hill draws a young mother desperate to find a cure for her only child's illness. Unable to accept the doctor's diagnosis that her daughter should be permanently institutionalized for psychiatric care, Rose flees with her child, heading for the abandoned town in search of answers -- and ignoring the protests of her husband. It's soon clear this place is unlike anywhere she's ever been. It's smothered by fog, inhabited by a variety of strange beings and periodically overcome by a living "darkness" that literally transforms everything it touches. As Rose begins to learn the history of the strange town, she realizes that her daughter is just a pawn in a larger game.
People Who Like this movie also like
News & Interviews for Silent Hill
Critic Reviews for Silent Hill
Audience Reviews for Silent Hill
Gans deserves praise for investing in the movie's atmosphere with an evocative cinematography and several stunning sets that look incredibly disturbing and creepy as hell - but even so, some of the scenes are way too uncomfortably graphic and the CGI creatures look atrocious.
Carlos Magalhães
Super Reviewer
Daniel J DeMersseman
Super Reviewer
This Japanese created horror came along after the hugely popular 'Resident Evil' both in terms of the game and the film. Where as the first Resi Evil was a more standard action fest that ran with a generic plot similar to 'Aliens', 'Silent Hill' is a completely different approach. That approach being the film makers actually based this film on the actual game. That is the first thing you notice straight away, this film is an actual horror film and tries to recreate the tension from the eerie game. The visuals in this film are actually pretty good and the whole thing certainly does feel like a videogame in the sense of camera angles, lighting and general atmosphere. I must admit to being very impressed with the whole look of the film. Its not watered down in any way, there's plenty of blood, the monsters are highly detailed and very creepy (Pyramid Head looking damn good I must say), the town is rendered really well, it chilling, very dark and brings the game to life in a truly surprising way. A cheap run of the mill straight to DVD film this is not...amazingly. The plot is slightly disappointing in the sense that it kinda wanders. At first the film is a solid ghost story with demons, intrigue and imagery that you may see in many Japanese horrors ('The Ring' for one with all the little girl shots). Unfortunately later the story seems to gravitate towards more of a religious theme including cults and witch hunting which is a completely different horror genre really. That's not what you expect and it weakens the film as all the demons, monsters and mutilated bodies all turn out to be just incarnations from a young child's mind (I think). The whole 'person getting revenge by using his/her anger manifested in monsters/creatures' isn't too original really but I do believe this feeds into the videogames story, or at least various ideas from all the games. The film isn't short on bad bits though, can't escape that I'm afraid. Casting Sean Bean as an American was not the best idea really, his attempt is brave but heavily flawed. The odd silly moment including when 'Rose' heads off down into the hospitals basement, the lift seems to drop about a hundred levels! how deep does this building go!?. The other main issue I had was the rather weak ending, a big anti climax really with a tame CGI finale. Not scary and not particularly interesting because you don't feel the bad guys are getting a good drumming. I also didn't get the finale twist at the end where 'Rose' and 'Sharon' seem to have remained in this alternative realm or dimension? how and why?? are they maybe dead? what gives here?. You must give kudos to Gans for what he has accomplished here. Who'd have thought an adaptation of a horror videogame, which isn't exactly too far from the 'Capcom' equivalent, would actually turn out to be a stable accurate conversion. The films survives on visuals and design of course, performances aren't that great and the story limps to a conclusion but it still manages to give you shivers whilst you watch.
Phil Hubbs
Super Reviewer
Silent Hill Quotes
| | |
| --- | --- |
| Dahlia Gillespie: | Into the fire she swallowed their hate |
| Dahlia Gillespie: | Into the fire she swallowed their hate. |
| | |
| --- | --- |
| Alessa: | Now the dream of this life must end, and so too must the dreamers within it. For over thirty years they have denied their own fates. For thirty years, they've lied to their own souls. But now is the end of days, and I am the Reaper. |
| | |
| --- | --- |
| Dahlia Gillespie: | They are wolves in the skin of sheep. They brought about their own hell, they'll take you with them. |
| | |
| --- | --- |
| Alessa: | I'm the dark part of Alessa |
| Alessa: | I'm the dark part of Alessa. |