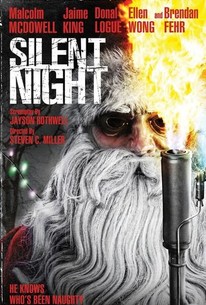 Silent Night
2012, Horror/Mystery & thriller, 1h 34m
11 Reviews
1,000+ Ratings
Where to watch
Rent/buy
Rent/buy
Rent/buy
Rate And Review
Movie Info
A vicious killer dressed as Santa Claus hides in plain sight during a small town's annual Christmas festivities.
Rating: R (Brief Drug Use|Bloody Violence|Language|Some Sexuality/Nudity)

Genre: Horror, Mystery & thriller

Original Language: English

Director: Steven C. Miller

Writer: Jayson Rothwell

Release Date (Theaters): limited

Release Date (Streaming):

Box Office (Gross USA): $9.7K

Runtime:

Distributor: Anchor Bay
Audience Reviews for Silent Night
Santa Claus brings the pain in the low-budget horror film Silent Night. In a small Midwestern town a Santa Claus killer is on the loose, brutally murdering the naughty. Starring Jaime King, Malcolm McDowell, and Donal Logue, the cast is actually pretty decent; though their performances are awful. And the plot is all over the place, never really explaining why the killer kills who he does or what he's after; it's all random. Additionally, the gore is incredible gratuitous and comically bad. Formulaic tripe, Silent Night is a poorly made slasher film.

The remake of Silent Night, Deadly Night is a much darker update of the 1984 controversial classic Slasher film. Although at times the dialogue is a bit cheesy and awkward, the kill sequences are purely nasty and make up for the so-so dialogue. Let's face it, Slasher films are not known for great script writing, but they deliver in great kill scenes, most certainly gives genre fans enough gory kills to satisfy the most demanding genre fans. The original film was quite good for what it was and it was a much underrated film. However by today's standards, it's quite cheesy and it looks dated. With this remake, the filmmakers deliver a gory thrill ride that is one of the better Slasher remakes since My Bloody Valentine 3D. This is only a film for genre fans. Go into this film expecting a mindless splatter film, and that's what you'll get. Like I said, the gore is standout and it more than makes up for the lack of story, which is decent, but the filmmakers could have been reworked because killers in Slasher films usually have a motive for their spree. This Santa doesn't seem to have a motive, and it would have been interesting to develop a more in depth story to the character. I recommend this film for any horror fan looking for a Slasher film with effective kill sequences. Although not a great movie, Silent Night is one of the better films in the genre that has come out lately, and it should at least be seen for its hints of old school Slasher elements. This is a worthy update to the original film, and it is an entertaining film that manages to give horror fans what they want. Although some parts are questionable, there is enough here to enjoy if you're a fan of this genre of horror.

This a surprisingly decent movie with a, very obvious, sense of humor. I think the film presents itself as overly serious when it's really anything but. Not to mention a hilarious performance from Malcolm McDowell as the sheriff who's full of cheesy one-liners that don't make any sense. So it's clear that the movie isn't meant to be taken seriously, but I still wouldn't say that it's a good horror film by any means. It's got good, and goofy, gore and it has a dark sense of humor but somehow there was something missing. It just offers nothing that is really memorable other than some laughs and some good gore. Which was, most likely, the purpose of this film and I may be over analyzing a film that doesn't need it. Still it's a decent rental if you're itching for some horror.

I couldn't tell if this film was deliberately trying to spoof itself or if the acting in it was just plain awful. Either way the mix of horror and comedy really doesn't work here. McDowell is hammy as the town sherrif but also looks permanently annoyed throughout (with his Agent, maybe?). King is playing the whole things straight but therefore looks out of place alongside some of the more 'looser' acting styles. The worst culprit is the actor playing the priest who is so over the top I kept expecting him to look at the camera and give us a wink! The kills are more fun than other recent remakes though and if you like your gore you won't be disappointed here. Forget about trying to justify the plot too as it doesn't make a whole load of sense. A bit of a mess then but some decent horror moments.
See Details