Simon Says
(2006)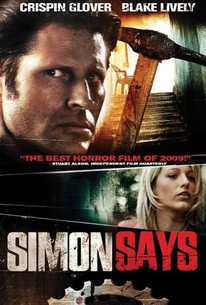 AUDIENCE SCORE
Critic Consensus: No consensus yet.
Movie Info
Danger comes in pairs in this gruesome horror story. Kate (Margo Harshman), Zack (Greg Cipes), Ashley (Kelly Vitz), Riff (Artie Baxter) and Vicky (Carrie Finklea) are five college students who are heading out together for a spring break camping trip. Hoping to add some excitement to the proceedings, they set up camp at the Heathers, a remote wooded location where a notorious murder took place years before. Legend has it a young boy killed his parents and beat his twin brother into a state of severe brain damage in the Heathers, but the students, attracted to the spooky ambience, don't imagine any real danger still lurks in the forest. En route, the kids stop for supplies at a ramshackle general store, where they meet Stanley (Crispin Glover), an eccentric shopkeeper with a mentally feeble brother, Simon (also played by Glover). What they kids don't realize until it's too late is that Stanley is the murderous youngster of legend, and with the help of Simon, he's still in the business of murdering strangers when the opportunity presents itself. Simon Says also stars Bruce Glover (Crispin's father), Lori Lynn Lively and Erica Hubbard.
Critic Reviews for Simon Says
All Critics (1) | Fresh (0) | Rotten (1)
It's all too easy to resist this final product, which follows yet another band of stupid teens into the woods for an ill-advised camping trip.
Audience Reviews for Simon Says
This movie is hilarious. I'm not going to even say the acting is bad here, because this should be viewed more as a spoof (how can really you take this movie seriously? Do yourself a favor. Don't!), but I will say the acting is enjoyably goofy and I laughed my fu*king ass off. Crispin Glover (George McFly from Back to the Future) who I admire as an artist, who is in fact bizarre and eccentric, but purely a genius in my eyes, is the solid rock which holds Simon Says on a pedestal. He's so maniacally deranged, it's scary to see how natural it comes to him. Simon Says is a screwball horror film. Even when it takes itself serious it becomes funny (hell, those are some of the funniest moments). The cast and crew must've had a blast making this film. Logic out the window, anything seems to go in this horror flick. Blades fly all over the forest slicing heads off, a dead body hanging from a noose swings 50 feet into the street hitting a moving vehicle, a giant size marijuana joint gets shoved down a man's throat and suffocates him, the killer runs around the forest in furry suits, cracking jokes and making a fool of himself. Need I say more? Now let's look at the characters. Can the actors act? Sure they can. They just do a great job acting like a bunch of fools. They seem like characters who just stepped out of an 80's sex comedy, who burned about 1000 brain cells, and forgot why they should be fearful of a guy in a bear suit swinging a machete at their heads. Do they scream? Sure they do, but why? I think they should be laughing. I know I would if I was in their shoes, because if I was in their shoes I'd be on planet Jupiter where nothing makes much sense, and everyone is half-baked or just flat out retarded. My big breasted Barbie-doll girlfriend would be annoyingly loud and overdramatic, I might have to take to sewing her mouth shut and sending her afloat. My friends would repeat shit I'd be embarrassed to say in front of a blind and deaf retarded Sumatran rat-monkey with no legs. Guy's with chainsaws and hokey masks would be doing late night stand up shows, drunk and disorderly, pissing on stage if not on the audience. Yes, I believe this would be a funny world to live in. Not that this movie goes the distance of my explanation but it's a world very much similar to mine. Can any of what I said on Jupiter be a reality on our planet? I likely doubt that. But nothing that happens in Simon Says would happen in reality either, and I mean nothing. And like my description of Jupiter this world that these characters in Simon Says live in is just as funny, and silly, therefore I don't believe I'd be able to hold a straight face, even if I were just acting in the film. Do the characters run from the crazy killer? Again, sure they do. But in all the wrong places (of course). Let me quote the famous Sidney Prescott on the likings of horror films - "What's the point they're all the same, some stupid killer stalking some big-breasted girl who can't act who is always running up the stairs when she should be running out the front door, it's insulting." What we have here is a horror film giving the finger to other horror films. Simon Says fits under Sidney's explanation, but it's not like the director just didn't get it or it flew over his head. The whole point of this movie (or so it seems) is to take any logical choice or decision-making in horror films and do the exact opposite, as do many slasher films (especially from the 80's). That doesn't necessarily always make for a bad horror movie, but many times it can make for a boring one, or even just a way typical slasher film. What saves Simon Says, like I said before, is the comedy, it's sense of humor. Many horror flicks can be like one big joke. Either a funny one, or stale one, one that's not so funny. Simon Says is a joke that I found to be funny. I understood it and I enjoyed my time laughing and cringing at it's delightful gory set pieces. And for the gore fans - here's your ticket for a bloody fix. You'll be pleased with the red grub in this movie. The forest is painted aplenty for your twisted and little disturbing viewing pleasures. So enjoy! The best way to sum this up and give more of an idea of what Simon Says is like, is to say "Cabin Fever meets Shredder (2003 horror film) meets Friday the 13th". Be opened minded. It's ridiculous, but funny...and bloody. It's a must see for hardcore horror fans. Don't judge this by my description alone, but watch the film and judge by it's scenarios to see where I'm coming from. I'm simply giving a heads up and preparing you for a ride that's just as ridiculous as seeing a deer being probed from an alien wearing a Santa suit. But it's a ride well worth it.
jd cryptic
Super Reviewer
½
Moron characters that you care about anyway a few minutes before they die, inventive kills, a high gory body count and a demented killer in the form of Crispin Glover. THIS is how you make an entertaing slasher movie.
A.D. Villarreal
Super Reviewer
One of the worst Horror films ever made! It?s a complete rip off of other teen Horror movies with terrible acting and over the top clichés. Honestly the chances are you have seen it all before!!
Lady D'arbanville
Super Reviewer