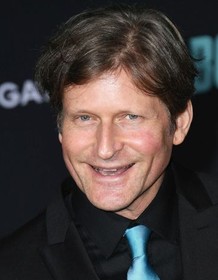 Crispin Glover
Highest Rated: 93% Back to the Future (1985)
Lowest Rated: Not Available
Birthday: Apr 20, 1964
Birthplace: New York, New York, USA
An intense, often unbridled presence in features and on television for more than three decades, actor Crispin Glover essayed fringe characters - some benign, others with darker intents - in such films as "Back to the Future" (1985), "The River's Edge" (1986), "Charlie's Angels" (2000) and "Willard" - while also maintaining a side career as an impishly surreal musician, artist and filmmaker. Born Crispin Hellion Glover on April 20, 1964 in New York City, he was the son of character actor Bruce Glover and his wife, dancer Betty Glover. The family relocated to Los Angeles when Glover was five years of age, and he soon began appearing in plays as an elementary student at the Mirman School. At 13, he made his professional stage debut in a production of "The Sound of Music" with Florence Henderson, and gave his first performance on television opposite Nicolas Cage in the pilot for "The Best of Times" (ABC, 1981), a variety series about kids on the cusp of adulthood. Guest appearances on "Happy Days" (ABC, 1974-1984) and "Hill Street Blues" (NBC, 1981-87) as eccentric pre-teens presaged his future screen persona, which was given its first full showcase in the teen sex comedy "My Tutor" (1983) as star Matt Lattanzi's sex-crazed sidekick. He would continue in this vein for the next year, playing socially awkward or confused young men in "Teachers" (1985), among other films, before earning widespread exposure as the hapless George McFly, an Eisenhower-era nebbish who must be introduced to schoolmate Lea Thompson by their time-traveling son (Michael J. Fox) in Robert Zemeckis' "Back to the Future" (1985). The global success of that film led to more substantive roles for Glover, and he drew critical praise as edgy, offbeat young men in "The River's Edge" (1986), "At Close Range" (1986) and "Twister" (1989). But his tenure as a mainstream performer would be short-lived; Glover turned down a reprisal of George McFly for "Back to the Future Part II" (1989), prompting the producers to construct the role from unused footage from the first film and actor Jeffrey Weissman, who donned prosthetic makeup to resemble Glover. The move prompted a suit from Glover, who claimed that they had used his likeness without his permission; the Screen Actors Guild would later insert a clause into collective bargaining agreements that would prevent producers and actors to take similar steps to reproduce actors' likenesses. With the "Future" fiasco behind him, Glove wholeheartedly launched a second career as a multimedia artist by issuing a surreal album of music titled The Big Problem Does Not Equal the Solution, The Solution Equals Let It Be, which included Glover's unique versions of "These Boots Are Made for Walking" and the Charles Manson-penned "Never Say 'Never' to Always." He also began reconstructing public domain books from the late 19th and early 20th century as stream-of-consciousness art projects, and presented them as slide shows at art and music venues. None of these efforts, however, outdid his a 1987 appearance on "Late Night with David Letterman" (NBC, 1982-1993), where a bewigged Glover appeared to suffer a nervous breakdown during his interview and come close to kicking Letterman in the head. Glover never revealed whether the appearance was a stunt or a legitimate on-screen freakout, but it did preserve his status as a go-to performer for malcontents and bizarre figures. He was Laura Dern's high-strung, bug-loving Cousin Dell in David Lynch's "Wild at Heart" (1990), a trembling Andy Warhol in Oliver Stone's "The Doors" (1991), and eccentrics of varying stripes in Lasse Hallstrom's "What's Eating Gilbert Grape?" (1993), Gus Van Sant's "Even Cowgirls Get the Blues" (1993, Jim Jarmusch's "Dead Man" and Milos Forman's "The People vs. Larry Flynt" (1996). After nearly a decade as a staple of independent film, Glover surprised many by displaying considerable physical skills as the silent assassin The Thin Man in "Charlie's Angels" (2000). The popularity of the film led to a renaissance of sorts for Glover, who again appeared to flirt with mainstream stardom, most notably as the star of "Willard" (2003), a remake of the '70s horror favorite, and "Charlie's Angels: Full Throttle" (2003), but the stint again proved short. With the funds earned from "Angels" and "Willard," Glover completed a decade-long film project titled "What Is It?" (2005). The experimental film, which starred a cast of actors with Down's Syndrome, drew a mix of baffled and appreciative responses from critics and audiences, and was followed in 2007 by "It is Fine! Everything Is Fine," starring and co-written by actor Steven C. Stewart, who had cerebral palsy. To fund these efforts and his traveling slide show exhibit, Glover took roles in numerous low-budget horror films like "The Wizard of Gore" (2007), though he also maintained a steady profile as a voice-over actor in the "Open Season" franchise, a surprise reunion with Zemeckis to provide the voice and motion for the monster Grendel in the animated "Beowulf" (2007), and character turns in "Hot Tub Time Machine" (2010) and "The Bag Man" (2010). Television provided him with more substantive and consistent work, most notably in the offbeat "Texas Rising" (History Channel, 2010) miniseries and in the Starz series "American Gods" (2017- ) as the malevolent god of globalization.
Photos
Crispin Glover
RIVER'S EDGE, Crispin Glover, Ione Skye, Keanu Reeves, 1986, (c) Island Pictures
WILLARD, Crispin Glover, 2003, (c) New Line
RIVER'S EDGE, Keanu Reeves, Crispin Glover, 1986, (c) Island Pictures
RIVER'S EDGE, Daniel Roebuck, Keanu Reeves, Crispin Glover, 1986, (c) Island Pictures
THE RIVER'S EDGE, Crispin Glover, 1986, (c) Island Pictures
WILLARD, Crispin Glover, 2003, (c) New Line
TEACHERS, Crispin glover (rear), 1984, © MGM
TEACHERS, on floor from left: Allen Garfield, Crispin Glover, 1984, © MGM
BACK TO THE FUTURE, Crispin Glover (right), 1985, © Universal
BACK TO THE FUTURE, Crispin Glover, 1985. (c) MCA/Universal Pictures -.
WILLARD, Crispin Glover, 2003, (c) New Line
WILLARD, Crispin Glover, 2003, (c) New Line
WILLARD, Crispin Glover, Laura Harring, 2003, (c) New Line
BACK TO THE FUTURE, Crispin Glover, James Tolkan, 1985. (c) MCA/Universal Pictures -.
WILLARD, Crispin Glover, director Glen Morgan on the set, 2003, (c) New Line
WILLARD, R. Lee Ermey, Crispin Glover, 2003, (c) New Line
CHARLIE'S ANGELS: FULL THROTTLE, Drew Barrymore, Crispin Glover, 2003, (c) Columbia
WILLARD, Crispin Glover, 2003, (c) New Line
THE PEOPLE VS. LARRY FLYNT, Woody Harrelson, Crispin Glover, 1996, ©Columbia Pictures