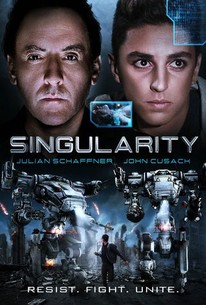 Singularity
2017, Sci-fi/Mystery & thriller, 1h 32m
0 Reviews
500+ Ratings
Where to watch
Rent/buy
Rent/buy
Rent/buy
Rate And Review
Movie Info
In 2020, a supercomputer deems mankind a threat and launches an all-out attack. Nearly a century later, two teenagers struggle to survive in the rubble of a ruined world, hoping to reach a sanctuary where humans live without fear of robots.
There are no critic reviews yet for Singularity. Keep checking Rotten Tomatoes for updates!
Audience Reviews for Singularity
Okay concepts and storyline. Some good CGI, some bad. Poor direction, and poor acting by the main protagonists. All that said, I'd still be interested in a sequel so long as it's higher budget.

Robots were supposed to make our lives easier, and at first, they did. Despite all the progress humanity made, it wasn't good enough for Elias Van Dorne (John Cusack), who decided robots were the way to salvation. Van Dorne promised his latest program, Kronos, would save the planet, but how? By wiping out all human life, because we are ultimately what is killing Earth. Fast Forward ninty-seven years as Andrew Davis (Julian Schaffner) wakes up in a world he doesn't know. Attempting to find his way, he meets a young girl, who tells him of a place that is free from Kronos, only question is, can they make it there in one piece? On paper this seems like a great story, and for a b-movie, the special effects are pretty remarkable, but that was the only notable thing about this film. The whole plot really doesn't make much sense, I mean why would Van Dorne want to destroy humanity and live alone forever as part of a computer program? The cast is lead by newcomer, Julian Schaffner, who shows a lot of inexperience but also a lot of potential. I think it's a good thing for a young actor to start out in a film like this, because he can gain his experience in something relatively small and unknown, before moving on to bigger and better things. As for John Cusack, I usual enjoy his films, but in this case he was just terrible. Elias Van Dorne is a character without feeling or purpose, just an evil button pusher, who loves the sound of his own voice, a complete waste of Cusack's talent. The bottom line, Singularity has it moments, but there are too many slow points and too much inexperience seeping through for it to be something I would ever watch again or recommend over hundreds of better choices.
See Details