Sister Helen
(2002)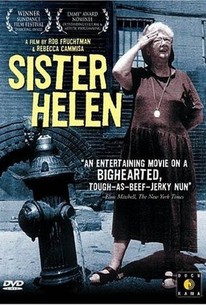 Movie Info
Most nuns are not like Sister Helen -- she's tough as nails, can curse like a sailor, and woe be unto anyone who gets on her bad side. But most nuns probably haven't had a past like Sister Helen's, either; a longtime alcoholic, Helen gave up drinking only after the death of both of her children (one of whom was murdered) and her husband (whose death was related to his own drinking problem). After getting clean and sober, Helen became a Benedictine Nun, and she now runs a halfway house for recovering drug and alcohol abusers in a rough neighborhood in the South Bronx. Sister Helen is a documentary that looks at her often difficult life and her current crusade to help addicts get clean, as she shares her home with 21 men struggling with sobriety. Taking no guff and offering compassion only to those who deserve it, Sister Helen's attitude redefines the phrase "tough love," and among her charges are men who are grateful for her help, and a few who are resentful of her methods and distrustful of her motivations. Sister Helen received the Director's Award for Best Documentary at the 2002 Sundance Film Festival.
Critic Reviews for Sister Helen
Audience Reviews for Sister Helen
½
[font=Century Gothic]"Edvard Munch" is a pseudodocumentary about the famed Norwegian painter who worked and lived in the last part of the 19th and early 20th centuries. The film is performed by actors but there are also "interviews" conducted with the characters. The film illuminates Munch's work perfectly beyond his most famous work "The Scream" but it also lingers too long on the social structures of the time in Norway.(One of these days I would love to see a movie about happy people in Scandanavia.) It is understandable that it would show some personal material on Munch, but it is a bit too much to keep up with all the social entanglements of his circle of friends.[/font] [font=Century Gothic][/font] [font=Century Gothic][color=navy]"Sister Helen" is a documentary about Sister Helen Travis who ran a halfway house for recovering addicts in the South Bronx. Helen Travis was a feisty and cantankerous woman in her sixties who had previously lost her sons and husband because of addictions(she herself used to be quite the drinker) and became a nun at a late stage in her life. She was seeking to[/color] [color=navy]give[/color] [color=navy]the kind of care to these addicts that she was unable to give to her own family before. I found that she was a very courageous person for operating this kind of center(some of the men had been in prison before). "Sister Helen" also illuminated me to the nature of addiction, in that there never seems to be a simple recovery process.[/color][/font]
Sister Helen Quotes
There are no approved quotes yet for this movie.