Beauty (Skoonheid)
(2011)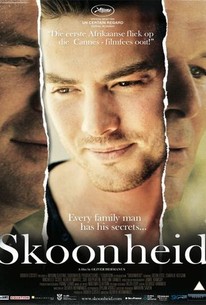 Beauty (Skoonheid) Photos
Movie Info
A man leading a double life finds his obsessions leading him in a dark, troubling direction in this drama from South African filmmaker Oliver Hermanus. Francois (Deon Lotz) is a South African businessman in his mid-forties who on the surface seems to be an ordinary, happily married, and respectable citizen. But beneath the surface Francois seethes with resentment; as an Afrikaner, he distrusts and dislikes the blacks who have risen to political power since the end of apartheid, and while he's openly homophobic, he's sexually attracted to men and takes part in periodic group sex sessions with other white, married men. While attending his daughter's wedding, Francois sees Christian (Charlie Keegan), the handsome twenty-something son of a longtime family friend, and he quickly becomes obsessed. Francois pays a visit to Christian's parents to find out more about him, and begins following the younger man as he struggles with his desires. Francois is attracted to Christian, but he also sees in him a man who is comfortable with himself and the world around him, and his lust eventually gives way to a hatred that seems poised to explode into violence. Deon Lotz's performance in Skoonheid (aka Beauty) earned him the Golden Eye Award as Best Actor at the 2011 Zurich Film Festival. ~ Mark Deming, Rovi
Critic Reviews for Beauty (Skoonheid)
Audience Reviews for Beauty (Skoonheid)
Beauty (aka Skoonheid) is a beguiling, disturbing masterpiece made with utmost skill and acted with sincerity. It concerns Francois - a man leading a double life; his workaholic, married parental life, and his compartmentalised, separate life as a man who is attracted to other men. The opening sequence, a one-take, bravura shot at a wedding party that focuses gradually through the crowd until it fixes on that of a young man (which is revealed to be the point of view of Francois), fantastically gives you all the pre-knowledge you need. We learn that the young man is Christian - Francois' nephew by marriage, and the literal object of his suppressed affection. The film details Francois' struggle to deny his impulses and how he ghettoises his life to try and get by, and how this ultimately fails him. For reasons that would spoil the plot, Beauty is definitely a disturbing film but our sympathy is always with Francois, even when he is making questionable and downright shocking decisions. Very much a political film that indirectly deals with South Africa's sometimes appallingly homophobic culture, Beauty takes its time and somehow concurrently does *so much* within its reasonably short running time. The camerawork and photography is superb, with obscured shots speaking volumes about character and enhancing silences (there's a spectacular sequence at a beach that is dark, tense and engrossing), the performances from Deon Lotz and Charlie Keegan (surely one to watch) are breathtaking. Refreshingly, we aren't given full reasons nor see full consequences of actions - for example we don't hear both sides of phone conversations, or hear what is not within Francois' earshot, and much of the concluding 15 minutes are left for the audience to pick apart if they so wish. The ending shot, following Francois' POV as he leaves a downward-spiralling road, speaks volumes about all the things left unsaid. Despite the depressing and downbeat content, Beauty is massively important and, appropriately, brilliant cinema.
Daniel Parsons
Super Reviewer
Beauty (Skoonheid) Quotes
There are no approved quotes yet for this movie.