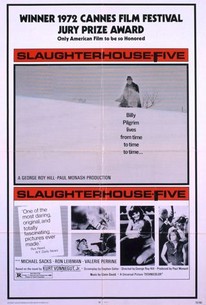 Slaughterhouse Five
1972, Sci-fi, 1h 44m
17 Reviews
5,000+ Ratings
Where to watch
Rent/buy
Rent/buy
Rate And Review
Slaughterhouse Five Photos
Movie Info
From his home in Ilium, N.Y., optometrist Billy Pilgrim (Michael Sacks) narrates the tale of how he came to be "unstuck in time." Kidnapped by aliens and living in comfort with his assigned mate, B-movie starlet Montana Wildhack (Valerie Perrine), Billy experiences the events of his life in random order, flitting between his past as an American prisoner of war in World War II, to his humdrum middle-class life in the present-day, to his future as a zoo curiosity on the planet Tralfamadore.
Rating: R

Genre: Sci-fi

Original Language: English

Director: George Roy Hill

Producer: Paul Monash

Writer: Kurt Vonnegut, Stephen Geller

Release Date (Theaters): original

Release Date (Streaming):

Runtime:

Distributor: Universal Pictures, MCA/Universal Pictures [us]

Sound Mix: Mono, Magnetic Stereo 6 Track
Audience Reviews for Slaughterhouse Five
Slaughterhouse Five is a decent enough movie, though that is mainly on the strength of the original story. There are some interesting transitions for the time jumps but overall the film's style feels dated (and certainly not eternal). The lead actor tries to convey the vibe of book and it comes off OK but the overpowering vibe is that of the 1970s. Still, it is a competent adaptation and fans of the book should give it a view, albeit with moderate expectations.

An interesting sci-fi that sadly fails by only hinting at its philosophical ideas and not going deeper into them. The narrative is always fluid, with elegant scene transitions and visual rhymes, but also vague about whether it wants to be a satirical piece or not.

World War II vet Billy Pilgrim time-jumps throughout his life on Earth and on Tralfamadore. In the list of unfilmable books I thought that Kurt Vonnegut's most famous novel would rank high on the list next to Naked Lunch, but George Roy Hill's adaptation of Slaughterhouse-Five diverges from the book just enough to make it a viable film and stays true enough to the novel that it still retains the plot and spirit of the original. The overall philosophy - that "life is just a collection of moments, and the trick is to remember the good and ignore the bad" - emerges both as a line of dialogue and a lesson demonstrated by the narrative structure of the film without seeming didactic. Michael Sacks's performance is exemplary, playing Billy with a naivete and innocence that is both charming and endearing. Sacks captures the origin of Billy's milquetoast nature as it emerges from a wisdom borne of timelessness. One of my friends argued that Slaughterhouse-Five is a patriarchal, misogynist book, and I disagreed because the female characters have an inner life that Vonnegut doesn't downplay. Unfortunately the film didn't keep this aspect of Vonnegut's narration, and Valencia and Montana emerge respectively as a crazy, superficial nut-job and an over-willing sexual partner. Overall, Hill's film is a fine testament to one of the great American novels.

I think this is a good movie until a certain point. I think the idea of this guy going back and forth and living certain points in his life is good and the movie is shot so that it's completely jarring every time he goes back and forth (which is a good effect), so if you don't feel that there's any flow to the movie because of it, well then that's the point. How could you make something flow naturally when he's jumping back and forth through time? The problem is, and I haven't read the book so I can't know how it is but I'm assuming it's better, that the movie doesn't go past just going back and forth. I hear fate and free will are big issues in the book, well the movie is just content just going back and forth and not really doing a lot with that. There's no thread here, like why I am watching this guy go back and forth in time? What is the purpose of it all? Apparently in the book, Billy goes and relives his death more than once, in here it's just mentioned in a line then they go right to the 'death scene'. It would've been cool if this death scene had been gone back to frequently in the movie, with each time a new detail about his death being revealed. It would've been cool. And I also don't know how big a role the Tralfamadores play in the book, because in the movie they're only mentioned once at the beginning when Billy is writing his letter and about 15 minutes before the movie ends, when they finally kidnap Billy. These 15 minutes are the best of the entire movie as they deal with deeper issues. Again, I don't know what role the Tralfamadores play, but, to me, they should've been a presence throughout the entire movie not just the last 15 minutes. Because by then, it's just too little too late. Even if the conclusion to the movie is excellent, I don't feel that this movie is any more than just good. Missed opportunity if you ask me. As usual, I'm sure the book is far better but the potential was there for this movie to be much more than it was and that sucks.
See Details