Spawn of the Slithis
(1978)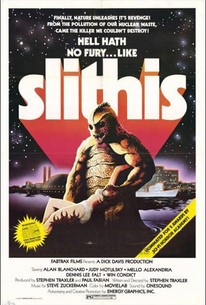 AUDIENCE SCORE
Critic Consensus: No consensus yet.
Spawn of the Slithis Videos
Spawn of the Slithis Photos
Movie Info
Also released under the title Spawn of the Slithis, this film follows the terror that strikes Venice, CA, when a terrible, man-eating monster crawls from its radiated home to ravage the nearby residents.
Critic Reviews for Spawn of the Slithis
There are no critic reviews yet for Spawn of the Slithis. Keep checking Rotten Tomatoes for updates!
Audience Reviews for Spawn of the Slithis
I know this is personal to each individual . . . but this movie personally exceeded my expectations. Save for a couple of 'interesting' performances (I would REALLY like for someone to explain the Sheriff lol) I actually thought this movie was overall well performed, well thought out, and just pretty damn good!
Michael Joseph
½
Slithis is the story a hulking fish monster that rises out of the nuclear waste-filled waters surrounding Venice, California. At first, it feeds off of random dogs here and there until it's hunger grows stronger and it eventually starts feeding off of random humans, who do not live to tell the tale of Slithis, thus causing a city-wide scare that intrigues journalism professor Wayne Connors (Alan Blanchard) who partners up with a scientist and sailor to take on the Slithis. Completely over-the-top and super-campy 70's creature feature that delivers lots of gore and even a renegade titty and STILL manages to get a PG rating. Ahh, the 70's, back when everyone had balls and not vaginas. How I miss those non-PC times. Oh well, back to the movie at hand. Sure, Slithis has aged quite extensively over the years and definitely features its fair share of gaping plot holes, but it's a fun slice of creature feature excitement pie that any and all horror enthusiasts should try a piece of. Laughably bad, but a lot of fun in the process. Good watch! This was written and directed by noted production manager Stephen Traxler whose looking to do a long-overdue sequel to the film. Here's hoping that happens.
Jason Duron
½
A high school journalism teacher is bored with his job and starts investigating local murders. He quickly starts to suspect something strange and mutated with the help of his scientist friend who looks like some dude. The lead is kind of blah, except when he's near bums.. then he throws in some creepy charm. Full of great characters-the frisbee throwing kiddos, the bums, HY PYKE, and scientists! There is even this great scene where this smarmy guy is taking a sweet young thing home... He cracked me up every second; especially when he lit the candles around a portrait of himself (which inexplicatly turns into a drawing as he's being murdered). Slithis is OK as a monster. He is able to do great mutilations by palming and slapping people.
Kayla Kromer
Spawn of the Slithis Quotes
There are no approved quotes yet for this movie.
Discussion Forum
Discuss Spawn of the Slithis on our Movie forum!