Slums of Beverly Hills
(1998)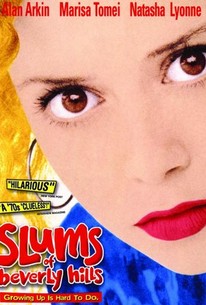 Slums of Beverly Hills Photos
Movie Info
Tamara Jenkins wrote and directed this comedy-drama depicting the experience of growing up poor in the 90210 zip code, told from the point of view of Vivian Abramowitz (Natasha Lyonne), a teen who lives a nomadic existence in the outskirts of Beverly Hills with her single, divorced father, Murray (Alan Arkin) and her two young brothers (David Krumholtz, Eli Marienthal). As Murray tries to keep the family in the Beverly Hills school district, the family moves into a one-bedroom apartment in a shabby complex. When sexually liberated Rita (Marisa Tomei), daughter of Murray's brother Mickey (Carl Reiner), checks out of a drug rehab and moves into the apartment, she becomes a "role model" for the young Vivian. Jenkins's semi-autobiographical screenplay was developed and refined during Screenwriters and Filmmakers Labs sessions at the Sundance Institute. Produced by Robert Redford and Michael Nozik, this film was shown in the Directors Fortnight section at the 1998 Cannes Film Festival. ~ Bhob Stewart, Rovi
News & Interviews for Slums of Beverly Hills
Critic Reviews for Slums of Beverly Hills
Audience Reviews for Slums of Beverly Hills
All time favourite. Love this movie, so many funny scenes in it. Natasha Lyonne is just perfect for this role. Sweet comedy about growing up in the 70's with a bit of bite to it.
Nicki Marie
Super Reviewer
Natasha Lyonne has had many indie roles in television and film that are quite interesting, and this has to be one of her most enduring ones to date. This is Lyonne's largest leading role; before she made it into the "American Pie" franchise. This coming of age tale is really quite interesting, not just because of its setting being in the seventies, but because the family featured are great examples of how nuclear families were all but decimated by that time. Their dispassionate feelings towards one another, and their pure dysfunction, are what holds the film together and what yields the more poignant and tender moments onscreen. Alan Arkin, as the philandering father to an apartment full of rowdy kids, is always inhospitable and yet gives a monumental performance. Arkin cements himself, in my eyes, as one of the most underrated and yet talented actors of his time because the role of Murray is so perfect for him. As he shifts between filthy apartments, shuffling his kids around and yet telling them they deserve the finer things in life, we see a man that has all but given up and yet trudges on. Lyonne is also powerfully adept in her role, as she navigates the problems of young adulthood. Though she remains the main fixture of the film, and gives a knockout performance as Vivian, she doesn't overcrowd the film, which also contains many great supporting performances. Marisa Tomei is especially notable as the disillusioned Rita, fresh from rehab and starting her life in Beverly Hills, trying to find the man she left behind. Really the film remains very unsettling throughout, because it shows what it truly means to be poor when everyone around you is perfect. More than that it's what happens when you're not living the life that's always been promised. The complexities of this family are very real and solemn throughout the film, while also being funny at times. This has got to be the best unknown indie film of the nineties, because it seemingly hits every perfect note and yet doesn't even try.
Spencer S.
Super Reviewer
A great piece of work. One of the most underrated independant films of the 90's.
Slums of Beverly Hills Quotes
There are no approved quotes yet for this movie.