Smashed
(2012)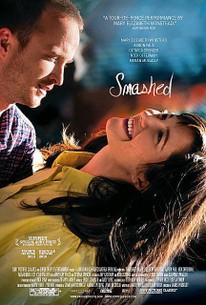 Movie Info
Kate (Mary Elizabeth Winstead) and Charlie (Aaron Paul) are a young married couple whose bond is built on a mutual love of music, laughter and drinking...especially the drinking. When Kate's drinking leads her to dangerous places and her job as a school teacher is put into jeopardy, she decides to join AA and get sober. With the help of her friend and sponsor Jenny, and the vice principal at her school, the awkward, but well intentioned, Mr. Davies, Kate takes steps toward improving her health and life. Sobriety isn't as easy as Kate had anticipated. Her new lifestyle brings to the surface a troubling relationship with her mother, facing the lies she's told her employer and calls into question whether or not her relationship with Charlie is built on love or is just boozy diversion from adulthood. -- (C) Sony
People Who Like this movie also like
News & Interviews for Smashed
Critic Reviews for Smashed
Audience Reviews for Smashed
"Smashed" follows two alcoholics as their lives begin to fall apart without them even realizing it, but when Kate (Mary Elizabeth Winstead) begins to sober up, her husband get's even worse. Living off of his parents money, he has no reason to stop. Aaron Paul and Mary Elizabeth Winstead give their all's in their performances here and their chemistry is almost as if they are married in real life. I believed every word they were saying to each other, and with such a short running time, it did not feel like anything had been in there as filler. Extremely well-written, well-directed, and brilliantly acted, "Smashed" is one of my favourite romance films out there. I was sucked in from the beginning and cried when the characters did, and that is when you know you are watching a great film. Terrific!
Good Indie drama about a hard partying alcoholic woman who hits rock bottom, and decides to try to sober up. Mary Elizabeth Winstead plays Kate, the young alcoholic woman trying to clean up her act, and she is amazing in this. The movie seemed very real in it's portrayals, and the challenges she faces in trying to stay in a marriage that's founded on drinking. Not fast moving, but heartfelt, and interesting all the same...
Cynthia S.
Super Reviewer
I expected this movie to be funnier, especially with Nick Offerman and Megan Mullally in the ensemble. A young couple revels in love and booze, but the wife eventually attempts sobriety to the husband's carefully masked disappointment. Alcoholism isn't inherently funny, but a film about it should be to some extent; otherwise, the struggle becomes melodramatic and the same as every other textbook addiction film. Nick Offerman's awkward flirtation is intended to provide some comic relief, but it just ends up being overlong, creepy, and inconsequential. The script is realistic and provides some riveting plot points (Kate teaching her 1st graders with drunken exuberance, then puking and perpetuating the kids' assumption that it was morning sickness; Kate waking up under a shady overpass, unsure and scared of what transpired the night before; Kate losing control of her bladder at the liquor store and then sneakily exiting with the wine she wasn't allowed to buy due to the curfew). However, my main critique of the script is that it needed less text and more subtext in the climactic fight scenes. The accusations are so on-the-nose: "You're the reason I can't be sober!" Everything is spelled out and predictable. Mary Elizabeth Winstead (along with Gemma Arterton and Hayley Atwell) has one of those faces that I can never recognize. She looks different every time I see her. She has some shining moments of vulnerability in this role, but her drunkenness is once again, a bit on the nose. My first acting teacher said acting drunk for a role is tough because drunk people don't necessarily act drunk; they try to act like they're NOT drunk. Aaron Paul, as husband Charlie, is quite magnificent with his ice-blue gaze. Charlie is slightly douchey and overall loving, but the way he loves isn't enough for Kate anymore. Aaron Paul does well in disguising his secret hope that Kate will rejoin his bad behavior as support.
Alice Shen
Super Reviewer
Smashed Quotes
| | |
| --- | --- |
| Charlie Hannah: | Can we just play one more game? Because You're kicking my ass and it's embarrassing and l would like to have a chance to redeem myself. Please? |
| | |
| --- | --- |
| Jenny: | It's hard to life your life honestly. |
| | |
| --- | --- |
| Kate Hannah: | Last night I ended up... smoking crack. |