Sniper: Reloaded
(2011)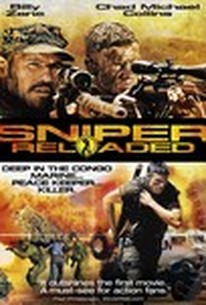 AUDIENCE SCORE
Critic Consensus: No consensus yet.
Movie Info
His team ambushed by a sniper during a UN peacekeeping mission, a Marine sergeant teams up with the expert sniper who trained his father to get the take out the ruthless triggerman and settle the score. Marine Sgt. Brandon Beckett (Chad Michael Collins) is the son of legendary sniper Thomas Beckett, one of the best marksmen the military has ever known. When fighting breaks out in the Democratic Republic of Congo, Beckett and his team are ordered to rescue a European farmer whose land has been overrun by rebels. No sooner has the team arrived, however, than they are ambushed by a stealth shooter who nearly kills them all. The only one left standing is Beckett. Badly wounded but thirsty for revenge, Beckett calls in a favor from sniper instructor Richard Miller (Billy Zane), the man who taught his father everything he knows. Later, as the elusive killer returns to finish the job, Beckett and Miller take aim, and prepare for the fight of their lives. ~ Jason Buchanan, Rovi
Critic Reviews for Sniper: Reloaded
There are no critic reviews yet for Sniper: Reloaded. Keep checking Rotten Tomatoes for updates!
Audience Reviews for Sniper: Reloaded
Mediocre final to the Sniper franchise, this fourth film is a bland, unimpressive to a series of films that never really stood out. The film's problem here is that, instead of developing on the third film, which was decent fun, Sniper reloaded just waters down the film's story, and in turn it becomes a tiresome, dull affair that never takes off. Add to that, poor performances and a sheer lack of wanting to make a good film by the filmmakers, and you have a final film that ends up being mediocre. There could have been many ways how they could have ended the series, and to be honest, I always felt that Sniper never needed three sequels. The film should have been a standalone feature because the material never had enough angles to really create an awesome series of films. Overall the films ranged from mediocre to decent, and as a whole the series is quite forgettable. Sniper Reloaded just lacks anything really entertaining, and it recycles the tiresome ideas and adds some bland performances that are highly forgettable. If you're going into this film expecting a great action film, you'll sadly be disappointed. The film is strictly for viewers who are diehard fans of the series, and even then, there are things that lack and won't satisfy genre fans. This film really could have been a fun end to a series of films that should have been something quite good. This is standard Straight to DVD stuff, a film that leaves a lot to be desired, and it shows in the final film, which just feels like a lazy, uninteresting action film.
½
No more Tom Beringer. Now his son (not real life, but sure resembles him) takes over. I thought that this was pretty good. It was well done, and it appears they are starting a new series. I would be curious enough to check the next one out....
Cynthia S.
Super Reviewer
More than what I expected and I didn't expect much. The movie has a decent story and keeps a certain timeline and relation with the other Sniper movies with Tom Berenger. Not much acting though but some good old action you can't deny. Get to the Shoppa! Boom head shot!!! While working with the UN Forces in the Democratic Republic of the Congo, Marine Sgt. Brandon Beckett (Chad Michael Collins), son of renowned sniper Thomas Beckett, receives orders to rescue a European farmer trapped in the middle of hostile rebel territory. When he and his men arrive at the farm, a mysterious sniper ambushes them, wounding Beckett and killing everyone else. With the help of his fathers former protégé, sniper instructor Richard Miller (Billy Zane), Beckett must learn to think like a sniper to track down the assassin before the sniper returns to finish the job. On top of this he must also track down the one who is giving the orders and reveal a conspiracy.
Sniper: Reloaded Quotes
| | |
| --- | --- |
| Sgt. Brandon Beckett: | Sgt. Beckett: What about when you get back to Pendleton? You're gonna answer for this. |
| Richard Miller: | Are you kiddin? We're not gonna live through this. [Sarcastically] |
| | |
| --- | --- |
| Richard Miller: | You piss your pants and learn to love it |
| Richard Miller: | You piss your pants and learn to love it. |