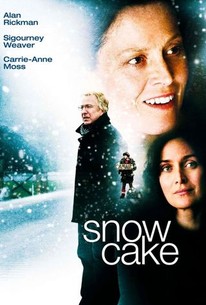 Snow Cake
2006, Drama, 1h 51m
64 Reviews
10,000+ Ratings
What to know
critics consensus
Sigourney Weaver gracefully undertakes a difficult role, while the rest of the cast lifts the histrionic plot into something worthwhile. Read critic reviews
Where to watch
Rent/buy
Rent/buy
Rate And Review
Movie Info
Traveling through Canada, ex-con Alex Hughes (Alan Rickman) picks up a vivacious young hitchhiker, Vivienne (Emily Hampshire), who needs a ride to her hometown. Soon afterward, the pair are involved in a horrible car accident that kills Vivienne. Alex continues on to her home to tell Vivienne's mother (Sigourney Weaver) about her fate. Later he begins an affair with a neighbor (Carrie-Anne Moss) who paves the way for his healing.
News & Interviews for Snow Cake
Audience Reviews for Snow Cake
Snow Cake is a 2006 independent drama film directed by Marc Evans and starring Alan Rickman, Sigourney Weaver, Carrie-Anne Moss, Emily Hampshire, and Callum Keith Rennie. It was released on September 8, 2006 in the UK. Very interesting drama about unusual friendship filmed in Wawa, Ontario. Snow Cake is telling us a story of Linda, a woman with autism (Weaver), and Alex (Rickman) who is traumatized after a car accident involving him and Linda's daughter (Hampshire). The movie was screened and discussed at Autism Cymru 2nd international conference in May 2006 as well as the Edinburgh International Film Festival, Tribeca Film Festival, Toronto International Film Festival, Seattle International Film Festival, among others. It was the opening night screening for the Berlin Film Festival as well... It is carefully crafted and the screenwriter, Angela Pell, wrote the role of Alex Hughes with Rickman in mind. It was also Rickman who read the script and made sure Sigourney Weaver (with whom he had previously starred in Galaxy Quest) was contacted about the role of Linda. Both Rickman and Weaver were runners-up at the Seattle International Film Festival for the respective prizes of Best Actor and Best Actress. I have to say that my opinion is that Weaver was a weaker link in this movie with her "overacting" in some scenes... but , maybe, I am wrong... watch it and let me know your thoughts on it. During the course of making the movie, Sigourney Weaver (Linda) researched the subject of autism and was coached by Ros Blackburn, a woman with the condition who is also an author and speaker about autism and Asperger's syndrome. Alan Rickman chose not to research the subject of autism in order to make his character have an impact/shock when facing Linda which gave him an advantage in acting his character so much stronger. All praises for the director Marc Evans and his ability to make everything believable and not too tacky!

Sigourney Weaver is mesmerizing and wonderful and Alan Rickman as always gives a great performance. Every now and then you watch a movie that opens your eyes and mind to a different world view and in this case it is a very beautiful thing watching the world through the eyes of an autistic woman. As everyone else around her grieves at the loss of her Daughter, the woman is seemingly uncaring or unable to feel anything about the fact that her daughter has died. However the whole time she is coping and dealing with the tragedy in her own unique and wonderful way. Really enjoyed the movie, certainly one of the best films I have seen. Ever!

Oh my goodness do I love a nice drama! Throw in Sigourney Weaver and Alan Rickman and I am in my glory!! Sigourney did a great job playing a sometimes crazy, sometimes silly Autistic woman. I really got a kick out of her. This was a very entertaining movie.

Such a well told story it plays so subtle and close to reality that most would over look it. Weaver takes on a major challenge in portraying and highly functioning Autistic person and Aces it. You are given allot of exposition about Weaver's and Rickman's character but really not enough to attain closure. As the movie progress you get more and more tidbits. Rickman Expat-Brit who has just been released from prison for killing a man, plays a very low key Englishman visiting Canada for the first time. He meet Weavers eccentric daughter roadside restaurant and after much coercion convinces him to give her a ride. Several hours later Richman begin to open-up and stop off for a bite to eat. Exiting the restaurant There car is slammed into by a Semi. Rickman lives but makes it a point to seek out her parents. I've always wondered if Alan Richman and Vinnie Jones have the same agent because they both get great roles and where they both carve out a great niche.
See Details