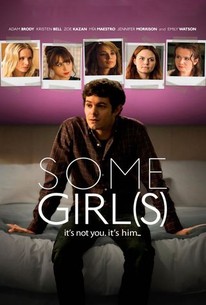 Some Girl(s)
2013, Comedy/Drama, 1h 30m
31 Reviews
500+ Ratings
Where to watch
Buy
Subscription
Rent/buy
Rate And Review
Movie Info
A successful writer travels across the country on the eve of his wedding to make amends with ex-lovers.
Audience Reviews for Some Girl(s)
While not a bad movie, it is not exactly enthralling and I hated Adam Brody's sleazy character. Some of the female cast were worth watching. Actually all of them except Mia Maestro - I didn't really like her character either, probably the only of these women who "deserved" that guy. Emily Watson was a standout. She really drew me in and made me interested in the story and I love Zoe Kazan generally. Jennifer Morrison and Kristen Bell are good actresses, but a little understated here. I am really having a hard time deciding what I think of this movie. It definitely doesn't quite work with the five little stories linking up, but worse than that is character is just repellent. I guess it's unfair to pan the movie based on that when obviously it achieved what it meant to do. I really don't think you are meant to like him, and I think you are meant to pity his women.

Adam Brody, Emily Watson, Jennifer Morrison, and Kristen Bell star in the hard hitting drama Some Girl(s). On the eve of his wedding a successful writer visits with several women from his past in order to reconcile past transgressions. One can't help but make a comparison to High Fidelity; which is far more clever and insightful. Still, the film does address some interesting issues concerning relationships and accountability. Additionally, the performances are quite good and feel authentic. Though it's a little derivative, Some Girl(s) is a compelling and provocative film with a dark edge.

It's not you. It's him... Mediocre Movie! This is a movie that is hard to review. First of all the idea and acting are good and it is obvious that this was written as a stage play. In order to really feel for the characters you have to not really even like them but you must respect them. Bad guys are interesting, you don't like them but you respect the character and his role. Adam Brody's character in this is so unlikeable you almost hate him and really have no respect for what he is doing. The more women he talks to the more you begin to despise the guy and by the end I really ended up hating everything about the guy. The test for a good movie is one that makes you feel certain emotions. By that standard this was a good movie, but this isn't really one I can recommend because Brody's character really could go down as one of the worst people in the history of cinema. I guess to see what I mean is a reason to watch. Overall, good movie but I can't recommend it. Based on his play by the same name, Neil LaBute's script follows a successful writer who, on the eve of his wedding, travels across the country to meet up with ex-lovers in an attempt to make amends for past relationship transgressions. Crisscrossing from Seattle to Boston, he reunites with high school sweetheart Sam, sexually free-spirited Tyler, married college professor Lindsay, his best friend's little sister Reggie, and "the one that got away" Bobbi. A modern-day Candide stumbling through a landscape familiar to most men-messy breakups.
See Details