Somebody Help Me
(2007)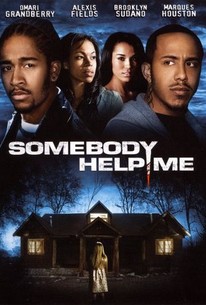 AUDIENCE SCORE
Critic Consensus: No consensus yet.
Movie Info
A weekend getaway turns unexpectedly horrific for a group of vacationing young adults when quick trips into the nearby town continually result in death. Brendan Young (Marques Houston) and Darryl Jennings (Omarion) have gathered a group of fun loving friends for a relaxing retreat into the woods, but it isn't long before these hard-partying pals are fighting for their lives. It seems as if every time they take a trip into town someone in the group ends up missing or dead. Now, with their numbers quickly dwindling, the survivors must race to uncover the gruesome truth behind this small town before everyone is dead and there's no one left to tell their tale.
Critic Reviews for Somebody Help Me
All Critics (2) | Fresh (1) | Rotten (1) | DVD (1)
Ugh. For the love of slashers across the world, skip this predictable film unless you want to wind up exhausted and fed up with life.
Just the right mix of red herrings, scantily-clad coeds making ill-advised choices and macho dudes being cut down to size to keep you on the edge of your seat for the duration.
Audience Reviews for Somebody Help Me
A very poor, low budget made for TV horror. It has no real plot, not much is explained for the story or the reason for the killer. The acting is bad, the script even worse. Some of the characters appear and disappear just as quickly. It doesn't have many kill scenes as such. Mildly gory in a couple of scenes. Really though this is pretty bad and just about any other horror film is better than this! I can't believe it got a sequel!!
Just got a screener of the DVD 'Somebody Help Me'...After reading mixed reviews - a lot of pretty good ones mind, I was quite looking forward to seeing it. The story seemed pretty familiar, five couples go to a cabin in the woods, slasher killer around picking them off one by one...you know the rest!!! But as soon as the film was on I thought it was pretty good. The acting was quite good, above average for a DTV film, and the setting was really good I thought. They chucked in the obvious 'IT COULD BE'S' like all these films do, but this had a kind of supernatural twist to it too, which never really materialised into anything. But it had a kind of 'HOSTEL feel to it too. I don't want to spoil things too much!!! Also it did have some nice gore effects, (I'm a massive gorehound) although not a gorefest by any stretch of the imagination. This for me was heading for a strong 3/5 the ending was "Oh, is that it...", it left me totally unsatisfied and kind of cheated in a way as it just did'nt explain what I had just seen for the last hour and a half. Massive let down for us - maybe somebody may be able to help me out! -I just did'nt get it.
Cassandra Maples
Super Reviewer
Somebody Help Me Quotes
There are no approved quotes yet for this movie.