Something's Gonna Live
(2010)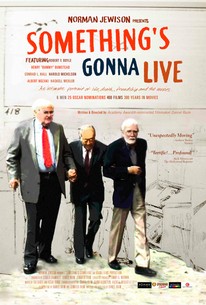 AUDIENCE SCORE
Critic Consensus: No consensus yet.
Something's Gonna Live Photos
Movie Info
This informative and lively documentary follows six artists in their senescence who have bonded throughout the years after working in Hollywood during the golden age of cinema. From storyboard artist Harold Michelson to art directors Robert Boyle, Henry Bumstead and Albert Nozaki to cinematographers Haskell Wexler and Conrad Hall, each one of them gets just the right amount of screen time so that you're able to understand precisely how they started out in the film industry, how they contributed to it and what makes them so important within the scope of the world of film. Neither of them comes across as full of themselves or boring; they're each wise, honest and charismatic. Albert Nozaki, who worked as the art director in such films as When Worlds Collide, the original War of the Worlds and The Ten Commandments , explains how even though his eyesight was poor back then, his boss at Paramount let him continue to work; on the day that the Japanese bombed Pearl Harbor, though, he was fired merely a few hours after the bombing, but returned to his job there after the war was over. He retired when he became completely blind in 1969 and died in 2003 at the age of 91. Robert Boyle worked as a production designer for a variety of classic films ranging from Saboteur to The Birds, North by Northwest, In Cold Blood, The Thomas Crown Affair and more. It's very fascinating to listen to him and storyboard artist Harold Michelson discussing what it was like to work on The Birds together and how a modern version of The Birds would probably leave virtually nothing to the imagination and have no subtleties unlike the original. They also give their two cents about how Hitchcock (referred to as "Hitch") would make films if he were alive today to utilize modern technology which he'd probably use frequently, but only as a means of serving the story. Both Boyle and Michelson died at the age of 100 and 87, respectively. Production designer Henry Bumstead worked on To Kill a Mockingbird, Vertigo, The Sting and recent films such as Flags of Our Fathers and Letters from Iwo Jima, and others, before dying at the age of 91. Haskell Wexler not only works as a cinematographer, but also as a director, writer and producer to this very day. His credits includeThe Thomas Crown Affair, Who's Afraid of Virginia Wolf?, Medium Cool which he also wrote/directed and produced, and most recently, he directed the documentary Who Needs Sleep?. Cinematographer Conrad L. Hall worked on such films as In Cold Blood, The Day of the Locusts, Butch Cassidy and the Sundance Kid, Road to Perdition and others before his death at the age of 76. He explains his cinematography helped to highlight and reflect the human condition in In Cold Blood just like the other artists tried to do in the films they worked on as well at that time. Will there be another renaissance in the world of film? It's hard to say, but these six artists do believe that it's bound to come at some point. Director Daniel Raim deftly blends interviews with each of them along with select footage from their films and footage of them bonding as friends back in 2003. He asks important, provocative questions while wisely staying out of the film to keep the focus on them and their thoughts, feelings and some of their memories of the iconic renaissance period. In turn, Raim brings out their warmth, panache, wisdom and, occasionally, their sense of humor so that by the time the film's over, you're able to fully grasp them as humble, down-to-earth and sensitive human beings who ought to be remembered and appreciated by future generations for their persistence, brilliance, diligence and sense of camaraderie. At a running time of 1 hour and 20 minutes, Something's Gonna Live is engaging, honest and filled with warmth, insight and charisma. -- (C) Official Site
Critic Reviews for Something's Gonna Live
Audience Reviews for Something's Gonna Live
Of the six filmmakers we meet in this doc, sadly only Haskell Wexler is still living now. Yet as the cumbersome title suggests their work still lives. Art Director Robert Boyle is the main focus. He is self-reflective and adorable throughout. He is joined by old friends and fellow art directors Henry Bumstead and Albert Nozaki. Each of their careers is briefly illustrated with anecdotes and samples of their work. Examples of Boyle's collaborations with Conrad Hall, Harold Michelson and Wexler are each also discussed. The documentary jumps around without a clear narrative thread unfortunately.
Byron Brubaker
Super Reviewer
Something's Gonna Live Quotes
There are no approved quotes yet for this movie.