Songs From the Second Floor
(2002)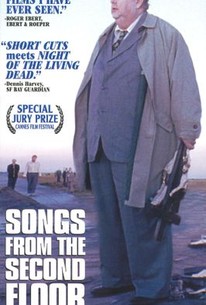 Songs From the Second Floor Photos
Movie Info
Songs From the Second Floor, which shared the Special Jury Prize at the 2000 Cannes Film Festival, is an indescribably surrealistic examination of the pointlessness of modern life in a nameless city full of directionless people. Throughout a series of unrelated vignettes, all marked by absurd black humor, the film's characters stand witness to an utterly motionless traffic jam, the pathetic firing of a 30-year employee, a magic trick gone horribly wrong, and the failed business ventures of a crucifix salesman. Dialogue is largely absent from the film, and even where present, it usually only confounds what little expository quality there is in the narrative. The tone of Swedish director Roy Anderssen's highly original and challenging project recalls such bleak visionaries as Samuel Beckett and Luis Buñuel, and though it certainly perplexed audiences, it also left them laughing uncontrollably.
News & Interviews for Songs From the Second Floor
Critic Reviews for Songs From the Second Floor
Audience Reviews for Songs From the Second Floor
½

The first impression I had watching "Songs From the Second Floor" was of a collection of life metaphors boxed in a surrealistic shape. A slight discomfort. Later on, some scenes insisted on coming back to mind and they amazed me in their simplicity/originality/reality. Blessed be the one who sits down. This quote is from the Peruvian poet César Vallejo, whose poem "Stumble Between Two Stars" inspired Roy Andersson´s film. "Vallejo created a wrenching poetic language for Spanish that radically altered the shape of its imagery and the nature of its rhythms. No facile trend setter, Vallejo forged a new discourse in order to express his own visceral compassion for human suffering." Even if it´s not that difficult to be digested, pretty much the same can be said about Andersson´s film that succeeds in portraying Vallejo´s imaginary and our modern and "complicated" human condition. - How are you? - What can I say? It's not easy being human. Life is hard to everyone. But is it really that bad? After sacrificing "the youth", a man drinks and throw ups, drinks again and throw ups. A woman on the floor can't get back up on her stool. It´s easier to keep drinking than to sit down*. Or in Michael Thomson ´s words in a review to BBC, "all activity is pointless". Pointless such as the perhaps obvious, but still great scene at the airport where several people push overloaded trolleys, piled high with towers of luggage. There's a time for misery. But it'll soon be over. Only a few more yards and we'll have left this damned dump under the clouds for good. Obvious or not, we go through life carrying lots of unnecessary things and we´ll still try to take them with us when it comes the time to reach the second floor. *Of course this is not what the scene means; it is just an analogy I made with "sits down" meaning to stop and think on what causes you pain.


Rubia Carolina
Super Reviewer
I loved some of the ideas presented here, but not so much the cold and empty execution. This is no fault of the film. It is just such a bizarre offering that its last concern is the audience. The film focuses on a bizarre city where time seems to have come to a halt. There are traffic jams, and people trying to get somewhere. However, very few seem to know where. One man is scared of the insurance men, after causing a fire, another has trouble with his stomach after an accident at a magic show. It's a film that requires you to sit and study, much like a poem. A lot of it is funny, such as the attention to detail. Seeing a parade of men in the background whipping each other is both unsettling but comical. It may have struck 10 years old, but a lot of the film has to do with accounts, brokers and businessmen. A repeated theme is the cost of business. This is still true, even more so today. Bizarre and interesting, but certainly a challenge.
Luke Baldock
Super Reviewer
A series of carefully woven absurdist and magical realist sketches set in a nameless Scandinavian city at the dawn of the millennium where flagellants parade down the street, no one can explain why there's a traffic jam, and a desperate church endorses pagan sacrifices. Extremely slow paced but rewarding to the patient; the quietly apocalyptic final scene with Kalle standing by the huge mound of discarded crucifixes watching figures on the horizon sticks with you---the image could have come from Bunuel, if he'd conceived it while suffering suicidal depression. Andresson's follow up, YOU, THE LIVING, is basically the same concept, but a bit funnier and more approachable.
Songs From the Second Floor Quotes