Space Chimps 2: Zartog Strikes Back
(2010)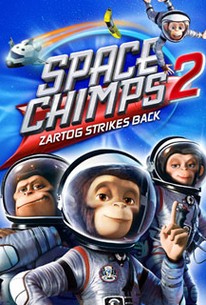 Movie Info
Determined to become a certified space chimp by any means, ambitious tech specialist Comet takes a trip to Planet Malgor and becomes locked in a struggle against evil alien tyrant Zartog in this colorful animated space adventure. Upon arriving on Malgor, Comet makes fast friends with a kind-hearted alien named Kilowatt. When the dreaded Zartog assumes command of Mission Control, it's up to Comet, Kilowatt, Ham, Luna, and Titan to overthrow the extraterrestrial tyrant. ~ Jason Buchanan, Rovi
Rating:
PG (for some mild rude humor)
Genre:
,
Directed By:
Written By:
In Theaters:
On DVD:
Runtime:
Studio:
Critic Reviews for Space Chimps 2: Zartog Strikes Back
Audience Reviews for Space Chimps 2: Zartog Strikes Back
The original had some cute moments but was barely watchable; in the name of completeness, I watched this too. Wow. Nothing cute, nothing funny, nothing new. The voice acting is not bad, not is the animation. Pass on this though.
Don Schick
I remember when the first Space Chimps came out, around the time of "The Dark Knight" and it was bad, but, nothing, and I mean NOTHING! COMPARED TO THIS! This....is.......the.....WORST MOVIE I HAVE EVER SEEN! PERIOD
Joey Traverso
Super Reviewer
Oh my god. I thought I would never see an animated movie that's worse than the abomination released from Don Bluth and can only take the name of A Troll in Central Park. I thought there was nothing worse than that movie. I promised that if anyone, any single person could find an animated movie that is worse than Troll in Central Park, they amaze me. Well, I have just amazed myself, for I have never seen an animated movie worse than this. I'm actually surprised that this movie just came out on DVD. I was stupid enough to watch this load of crap and give the Space Chimps series a second chance. If you have never watched this movie, I envy you. So as I review Space Chimps 2, I'm going to compare this movie to A Troll in Central Park to see which movie is worse. THE ANIMATION Ah, the animation. It is what truly makes the animated movie, for if it was devoid of animation, it would just be a movie. For TiCP, the animation was mediocre at best, but it was at least better than a few other animated movies and many television shows at the time. For Space Chimps 2, however, this animation is a Video Brinquedo standard. This animation does not qualify for a movie. Not even for a TV show. This animation is like the graphics on a Nintendo 64. Obviously, TiCP has the better animation than Space Chimps 2. THE PLOT Space Chimps 2 only rides on the plot of the original crap of Space Chimps. For a more original story, TiCP wins this round. THE DIALOGUE This is the only field where I think both movies tie in quality. Both movies have some of the worst dialogue I have ever heard in my life. While the dialogue in TiCP is either bland as heck or makes no sense, Space Chimps 2 is jam-packed with corny references and jokes that are just utter garbage. So for this round, it's a tie. OVERALL I really am shocked for finding a worse movie than A Troll in Central Park. I thought it wasn't possible. So forget Doogal, forget Shrek the Third, forget Quest for Camelot, forget the Tom and Jerry movie, forget The Pebble and the Penguin, forget Yu-Gi-Oh, forget Digimon, forget the original Pokemon trilogy, forget any Disney movie direct-to-DVD sequel ever made, forget any movie made by Video Brinquedo, forget the original Space Chimps, forget Rock-a-Doodle, forget Don Bluth's Thumbelina, and forget the CGI sequel to Rudolph the Red-Nosed Reindeer. Space Chimps 2: Zartog Strikes Back gets the award for Most Awful Animated Movie of All Time, hands down, no questions asked. Now if you can find an animated movie worse than THIS, that's just incredible.
InsertUname Here
Space Chimps 2: Zartog Strikes Back Quotes
There are no approved quotes yet for this movie.