Space Cowboys
(2000)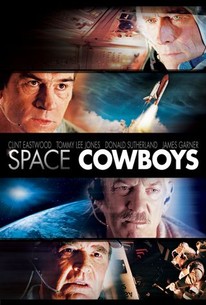 TOMATOMETER
AUDIENCE SCORE
Critic Consensus: While the plot is overly cliched, the suberb acting by the stars (especially the tense interactions between Clint Eastwood and Tommy Lee Jones) and the spectacular special effects make this a movie worth seeing.
Movie Info
In this adventure drama, four men passed over by the space program get one last chance to be heroes and live out their dreams. Frank Corvin (Clint Eastwood), Hawk Hawkins (Tommy Lee Jones), Jerry O'Neill (Donald Sutherland), and Tank Sullivan (James Garner) were top pilots within an elite Air Force squadron and on the fast track to becoming the first Americans in space in the early 1950s. However, when NASA was established, the pilots were cut out of the loop; Corvin went on to become an aerospace engineer, Hawkins continued on as a freelance pilot, O'Neill became an astrophysicist with a sideline in designing roller coasters, and Sullivan took up preaching as a Baptist minister. Years later, a Russian satellite's guidance system has started to malfunction, and it is expected to crash into the Earth within a matter of weeks. The system is identical to the one Corvin designed for Skylab, so NASA head Bob Gerson (James Cromwell) asks Corvin to help him with the emergency mission to repair the satellite. Corvin agrees under one condition -- that he be sent up to do the repairs himself, with Hawkins, O'Neill, and Sullivan as his crew. Clint Eastwood directed Space Cowboys while also starring as Frank Corvin; his supporting cast includes Marcia Gay Harden, Courtney B. Vance, Loren Dean, and William Devane. ~ Mark Deming, Rovi
People Who Like this movie also like
News & Interviews for Space Cowboys
Critic Reviews for Space Cowboys
Audience Reviews for Space Cowboys
½
It`s pure high-flying fun from start to finish. It soars through the air as an high-tech adventure with old-school heroes. It's a rocking good time. A thrilling, exciting and endlessly funny movie. Director, Clint Eastwood's best film in years. James Garner, Donald Sutherland, Tommy Lee Jones and Clint Eastwood are magnificent. Their having a great time, their chemistry is absolutely outstanding. You cant help but love it and this extraordinary dream team. A truly stunning and brilliant film. A clever, magnificent and unforgettable movie. A non-stop joy-ride filled with literally old-school excitement. I absolutely loved this movie. One of my personal favorites. A great slam of tender drama, sharp humor, sizzling suspense and lots of heart. It aint nothing but a good-time.
½
Space Cowboys a good adventure drama film with a great cast. However, considering that this is a Clint Eastwood film, it's also a bit disappointing considering that Eastwood has made far better films in his career. The cast do a good job here, and there's a dose of light hearted comedy to even the story out. I think it's great to see such great actors together in one film, and their varied talent brings something unique to the film. This is an entertaining film that is lots of fun, but it lacks something to really make a Clint Eastwood film really special. Space Cowboys is a bit too simplistic almost. Considering that this film was directed by Clint Eastwood, you'd expect something great. But the end result is one of the least memorable films that Eastwood has directed. I'm not saying that this film is bad, far from it, I just think that Clint Eastwood has made far better films in his career. As a whole, Space Cowboys is a good adventure film with a great cast of legendary actors. However, considering this, Space Cowboys could have been a far better film as well. For what it is, Space Cowboys is a good film that delivers a good time, but with that said, Clint Eastwood has made far better films than this. But if you're a fan of his work, then check this one out; just don't expect anything great from it. A good film for what it is, but kit could have been better as well.
not without its cliches and the acting and dialogue were a bit weak, but the story gives the audience so much to root for that the film succeeds almost by sentiment alone. some of the space images were subtle and awe inspiring, and the story flowed well enough to keep the audience into it. solid overall.
Space Cowboys Quotes
There are no approved quotes yet for this movie.