Sparks
(2014)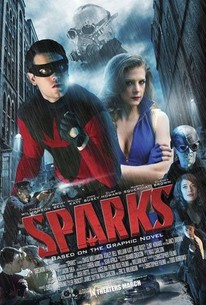 Movie Info
SPARKS is based on the independently released graphic novel series and has been adapted for the big screen by the series creator, Christopher Folino. The feature film version brings together two of Hollywood's rising stars Chase Williamson (John Dies At The End) and Ashley Bell (The Last Exorcism) who are supported by award winning actors Clancy Brown (Highlander, The Shawshank Redemption), Clint Howard (How the Grinch Stole Christmas), Jake Busey (Starship Troopers) and William Katt (Carrie, The Greatest American Hero). High Action Excitement -- Washington Times Outstanding Super Hero Thriller ***** - Examiner.com The city faces a deadly killer. He goes by many names, has many faces... all of them deadly. Is he Kevin Sherwood? Is He Ring Master Jesus. Is he The Matanza Killer? Ian Sparks will learn. Fighting crime became a mission for Sparks when he lost his parents in a fireball car crash. Burning with desire for revenge, he finds himself in the belly of the beast, where havoc is wreaked for profit and life is cheap. Joining a handful of super heroes operating in the shadows, what they have in common is greater than Sparks can imagine; but the cost of finding the killer and uncovering the truth may be more than he can afford. (C) Official Site
Critic Reviews for Sparks
Audience Reviews for Sparks
½
Cashing in on the boom in superhero films is this ... what is it? A Sin City knockoff? Most probably, with a heavy nod to the film noir of the late 1940's/early 1950's, only w/o a connection to any of that. It's like kids dressing up as Mommy and Daddy. One of those films of which description begins with the words: "its sooooo bad that ..."? Yes, all of that.
Kevin M. Williams
Super Reviewer
Awful! A dreadful pile of rubbish. The people responsible for this have been doing all they can to publish false good reviews on sites such as IMDB and Rotten Tomatoes.
Stuart Brooks
Super Reviewer
This old fashioned classic pulp action super hero movie was directed by Todd Burrows and Christopher Folino and they leave no stone unturned in their ode to classic forties comic books. We have characters that smoke big time, masked heroes that used their fists and fell for dames while fighting crime, hard boiled cops, and the like! Well, it was entertaining but flawed as well. The cast is the strongest part of the movie, especially Chase Williamson who gives a very strong performance as Ian Sparks, a young boy who lost his parents to a car wreck that occurred during a high speed getaway by some criminals. The story explains us that during the crash, a top secret chemical named "Red G" doused Ian, allowing him to live, and gave him remarkable powers of regeneration and near immortality. When we are mentioning a brilliant performances we cannot forget Lady Heavenly. Played by Ashley Bell of "The Last Exorcism". She managed to embody the role of Lady Heavenly while providing a very empathetic and charming portrayal as a heroine torn between her duties and her love for Sparks. The mystery and most of the twists very difficult to follow, and probably you will have a tough time figuring out most of what was happening, until the finale. It wasn't a bad watch, especially since it garners a great supporting performance from Clancy Brown. "Sparks" is a very original and unique spin on the superhero film, and I highly suggest it for fans of figures like "The Spirit," and "Green Hornet."
Sparks Quotes
There are no approved quotes yet for this movie.