Special ID
(2014)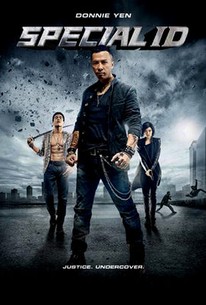 Movie Info
Donnie Yen is Zilong "Dragon" Chen, an undercover cop deep inside China's most ruthless crime syndicate. The boss, Xiong (Collin Chou, Jet Li's FEARLESS, THE MATRIX trilogy) swears to find every traitor and make him or her pay with their lives. Agents are turning up dead. His days are numbered. Desperate to protect his family and his life, Chen must risk everything to protect the SPECIAL IDENTITY he never wanted before it's too late. (c) Well Go USA
Rating:
R (for violence and language)
Genre:
, ,
Directed By:
Written By:
In Theaters:
On DVD:
Runtime:
Studio:
Critic Reviews for Special ID
Audience Reviews for Special ID
½
A premise seemingly inspired from the hit video game Sleeping Dogs, Donnie Yen stars as Chen Zilong, known as either Arlong or "Dragon," an undercover cop who resorts to fists and Brazilian Jiu Jitsu during his stint in the Triads. It's a drastic turn away from Donnie Yen's usual characters, smart and calculating nice guys who know their way around weaponry and various martial arts. Arlong is not book smart, not as skilled in other arts save Muay Thai and BJJitsu, and admits he is not the greatest with firearms. Though Donnie still maintains the nice guy character, as seen with his playful flirting nature with Fang Jing and his love for his mother, there is not much else to work on with his character. He's basically a street kid turned cop so he could "see the world," as how he rode on his mother's shoulders as a boy. It is a bit touching, but all the more reason to look at the story critically...at this point, viewers are going, "Wait, there's a story?" Special ID runs more on Donnie's antics, the short drama periods, and the martial arts choreography. I've come to expect this usually from Chinese action films, which offer amazing choreography with most of the time good actors in their cast, but a story that frequently jumps around until one loses track of it and goes: "To hell with it, go and tackle the bad guys now." It's why I can never really sit through films that do not have a story. What's the point of just watching punches and kicks fly for a reason that flew out the window near the climax? I would have liked to give it more stars, but looking back at it, Special ID is sorely lacking in more than just a story. The martial arts is great but not as satisfying, the gunshot effects were poorly edited, and the movie on a whole is just too choppy and poorly done to make much out of it. Donnie is at that point now I believe where, movies are made more for fun and to look back and laugh rather than put more into it. It was entertaining, but nothing more.
Daniel Lopez
[img]http://images.rottentomatoes.com/images/user/icons/icon14.gif[/img]
Directors Cat
Super Reviewer
Clarence Fok's Special ID lacks anything special.
With only 95 minutes of screen time to showcase, the story, while complete, suffers from unrefined storytelling. Some of the characters don't have much explanation and the plot details come and go rather quickly; however, the film makes good use with its insertion of action.
The fight pieces are made up of nicely choreographed martial arts brawls. The hits are intense and the stunt work is displayed at opportune moments. The car chase also contains a few moments of delight.
Donnie Yen provides some amusement as the lead, but it's the fights that are most welcome. The lovely Tian Jing finds herself with a worthwhile character. Andy On is a good counterpart for Donnie, while Collin Chou is completely underused.
Special ID has its share of moments and all in all is a watchable modern day action film.