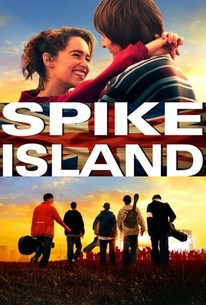 Spike Island
2012, Drama, 1h 36m
28 Reviews
500+ Ratings
What to know
critics consensus
Spike Island has energy and visual style to spare; unfortunately, they're lost within the movie's clichéd story and choppy direction. Read critic reviews
Where to watch
Free
Rent/buy
Rate And Review
Movie Info
Teenage musicians (Elliott Tittensor, Nico Mirallegro) travel to England's Spike Island in the hope of attending an outdoor performance by their favorite band, the Stone Roses.
News & Interviews for Spike Island
Audience Reviews for Spike Island
From 1988 to 1991, The Stone Roses re-defined British guitar music in a way that has made every band since their halcyon days have a bit of the Roses' blood in their music. I had been expecting a tribute film of The Stone Roses for quite a few years now after finding out their astounding influence, but Spike Island definitely threw me for a curve-ball. First off the film tries to set itself up as an established coming-of-age flick in a style not unlike parts of The Breakfast Club with the Roses' music acting as the supporting story arc to drive things forward. The film for the most part takes place in Manchester in the Spring of 1990 when the Roses were at their cultural zenith which is shown by the clothes, the imitations of John Squire's paintings and the fact that almost every male character in the film has either Ian Brown's or John Squire's haircuts with Reni's hats making frequent appearances. The plot line is fairly simple; five lads can't get tickets to The Roses' seminal Spike Island gig so they decide to journey there anyway and get in any way possible as Elliott Tittensor falls head-over-heels for Game Of Thrones' very own Khaleesi Targaryen dragon queen Emilia Clarke who portrays Sally Harris with the film taking an unexpected turn into a romance after the Spike Island chapter closes with Tittensor and Clarke's characters surprisingly remaining together by the time the film ends without any fights going on between them although the same cannot be said for Tits and Nico Mirallegro's character Dodge. These modernized period pieces have been occurring a lot in the past few years with England wishing to re-live the nineties and late eighties being one of the biggest aggressors of this. The new adult generation desperately wants to relive the Cool Britannia period of the late nineties with Britpop, Camden Street, etc as it was in the supposed glory days and it seems that the early 90s Manchester movement has now also fallen victim to this nostalgia craze. Despite the film having a few redeeming moments throughout, one may wonder through all of this how long it will be until a similar film revolving around Radiohead or The Smiths appears. It can't be long now.

In 1990, Tits (Tittensor) is a young man living in a working class area of Manchester known as "The Red Bricks". He spends his days drifting idly through school while his evenings alternate between visiting his dying father in hospital and practicing with his band. Along with his gang of mates, Tits is obsessed with The Stone Roses, a band who, for a very short time, were a huge phenomenon in the UK. The band are due to play what is being billed as "their ultimate gig", an outdoor concert held at the title location. Tits and his mates are desperate to attend, hoping to pass their demo tape to the band, but tickets are impossible to come by and fate seems to be conspiring against the lads. Should you decide to count the number of great films made on the subject of music, you'll likely end up with a few free fingers. The exceptions, Robert Altman's 'Nashville', Milos Forman's 'Amadeus', Hal Ashby's 'Bound For Glory', concern themselves with the musicians, rather than the music itself. The closest a film-maker has come to expressing the swell of emotion one feels when exposed to great music, outside of classic Hollywood musicals, is Bertrand Tavernier's 'Round Midnight'. Tavernier never allows his protagonist, played by Francois Cluzet, to tell us through dialogue why he's obsessed with Dexter Gordon's jazzman, instead it's written all over his face. The creators of 'Spike Island' employ no such nuance. Their protagonists constantly scream and shout their love of The Stone Roses, but they never quite convince us. If you're not a fan of the band in question, (personally I find their cult status baffling), Whitecross' film contains little to hold your attention. It's a soap opera affair, with each of the young protagonists struggling with their own cliched subplots. The father who wants his son to take over the family business against his will, the young man who can't express his feelings for the girl of his dreams, the teen stuck with an abusive father. For the most part, the cast, Clarke in particular, fail to sell themselves as working class Mancunians and the result is a film that feels like one of those "Yoof" dramas UK TV channels love to pump out, crossed with an episode of 'The Monkees'.
See Details