The Spiral Road
(1962)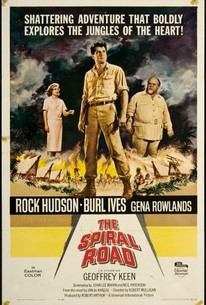 AUDIENCE SCORE
Critic Consensus: No consensus yet.
Movie Info
Since it was released in the same year as his masterpiece, To Kill a Mockingbird (1962), it is ironic that this drama was probably the least liked of director Robert Mulligan's films. A stiff adaptation of a novel by Dutch author Jan DeHartog, the film stars Rock Hudson as Dr. Anton Drager, an opportunistic atheist who travels with his wife Els (Gena Rowlands) to the jungles of Java in 1936. Drager is to become the new right-hand man of famed Dr. Brits Jansen (Burl Ives), a legendary humanist who works with lepers and is rumored to have done groundbreaking work that Drager believes could make him famous and wealthy. Trouble with a native witch doctor practicing black magic leads to a crisis of conscience for Drager, however, forcing him to reevaluate his self-centered philosophy. A former divinity student at New York's Fordham University, Mulligan may have been intrigued by the material's spiritual bent, but his direction is uninspired, and The Spiral Road (1962) was not considered a success.
Critic Reviews for The Spiral Road
Audience Reviews for The Spiral Road
Sprawling, well made if a bit heavy handed drama is helped by good location work and sturdy performances from Rock Hudson and Burl Ives. Gena Rowlands in one of her early roles does what she can with the thin character handed to her but the focus is really on Hudson and his journey of self awareness.
The Spiral Road Quotes
There are no approved quotes yet for this movie.