Spite Marriage
(1929)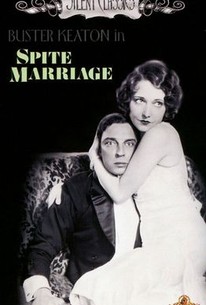 Movie Info
A hapless tailor's assistant falls hard for a snooty actress -- who suddenly agrees to marry him when her fiance dumps her. Keaton's last silent film was a struggle all the way between Keaton and his new MGM studio bosses, but it still contains abundant laughs and several classic moments.
Critic Reviews for Spite Marriage
Audience Reviews for Spite Marriage
½
This film is certainly not Buster Keaton's best work, though that's a very high bar. The plot meanders and lacks the charm and spontaneity we love from him. It too often relies on simple pratfalls, and there is not enough time devoted to his playful antics or wild stunts. The middle of the picture in particular is slow, and co-star Dorothy Sebastian acting drunk shows just how hard it is to do physical comedy that is sophisticated and funny, or to create something out of nothing, as Keaton so often does. With all of that said, 'Spite Marriage' has a 34-year-old Buster Keaton still in his prime, and some pretty clever scenes. He gets enlisted into a stage play in the first part, and after botching up his make-up while another actor puts his on professionally, proceeds to foul up the production in various funny ways. As he tries to elude those chasing him afterwards, he does a rapid change into a top hat and tails that is both entertaining and shows off his muscular body. Later in the film, he does some impressive stuntwork on a yacht, at one point getting thrown off, and then as the yacht goes by quickly, catches a small boat trailing behind and hauls himself into it. Throughout the movie, he's lovable and a joy to watch. This was Keaton's last silent picture, and as the 1930's would not be kind to him, it marks a transition for him. If you can avoid comparing it to his masterpieces (which I know is tough!), you'll probably find it's well worth watching.
Antonius Block
Super Reviewer
Keaton is hilarious as always in this movie. If you're a fan of his, you'll love it.
Spite Marriage Quotes
There are no approved quotes yet for this movie.