Zmruz oczy (Squint Your Eyes)
(2004)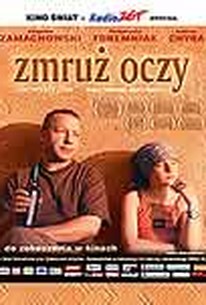 AUDIENCE SCORE
Critic Consensus: No consensus yet.
Zmruz oczy (Squint Your Eyes) Photos
Movie Info
Jasiek (Zbigniew Zamachowski of Krzysztof Kieslowski's Three Colors: White) is a former teacher, and the caretaker of a farm in the Polish countryside. He seems to lead a fairly uneventful life. But then Mala (Ola Proszynska), a rebellious ten-year old girl, runs away from her wealthy home and comes to hide out on his farm, bringing along her pet eagle. Soon, Jasiek is visited by the girl's mother (Malgorzata Foremniak) who threatens him, and her father (Andrzej Chyra), who insults him. They both insist that Jasiek use his influence over their daughter to get her to return home. When he's unable to convince the willful kid to move out, he finds himself in danger of losing his meager livelihood. He has to work out some kind of a deal with Mala and her parents. In the meantime, some friends visit from the city and throw a lively little party on the farm. Squint Your Eyes, writer-director Andrzej Jakimowski's debut feature, won a FIPRESCI Special Mention at the 2002 Mannheim-Heidelberg Film Festival "for a promising debut, presenting a variety of well observed characters in a poetic yet realistic setting." The film had its U.S. premiere at the 2003 Tribeca Film Festival. ~ Josh Ralske, Rovi
Critic Reviews for Zmruz oczy (Squint Your Eyes)
There are no critic reviews yet for Zmruz oczy (Squint Your Eyes). Keep checking Rotten Tomatoes for updates!
Audience Reviews for Zmruz oczy (Squint Your Eyes)
A nearly incomprehensible mish-mash that left this viewer scratching his head. There were some very cute scenes in here, and the humor was of the more subtle variety, but the story, the glue that would make it all hang together, was sorely lacking. One at times had the feeling that the subtitles were incomplete, or poorly translated to the point that it became difficult to understand what was happening and why. It is astounding to think that this film has won awards. The relationship between the caretaker, Jasiek (Zbigniew Zamachowski), and the young girl, Mala (Ola Proszynska), was touching but largely unexplained until well into the second reel. Several questions nag long after the movie ended. Why was the girl so disaffected with her parents? Where did she acquire an eagle, and where did it fly off to? Where did all of the various children come from, if this farm, or factory, or whatever it was, was so far out in the country? Was there some history between Jasiek and the mother? None of this was sufficiently explained for this viewer and distracted from being able to just enjoy what was presented.
Mark Abell
Super Reviewer
Zmruz oczy (Squint Your Eyes) Quotes
There are no approved quotes yet for this movie.