State Property
(2002)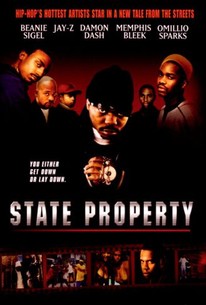 Movie Info
One man's efforts to get ahead on the streets lead him into a life of danger in this hard-hitting urban drama from Roc-A-Fella Films, the production company run by top hip-hop artist Jay-Z. Beans (Beanie Sigel) is a member of a Philadelphia street gang who has had enough of his life of poverty. Determined to get ahead by any means available to him, Beans steps to the wrong side of the law and begins selling drugs. Forming a crew with his friends and fellow gangsters called the ABM ("All 'Bout the Money"), Beans and his partners soon become the new rulers of Philly's underground economy. But with success comes competition, and Untouchable J (Jay-Z) and Dame (Damon Dash), the leaders of an establish drug-dealing crew, decide the ABM are taking more than their share of the business, and begin retaliating with violence -- with both the ABM crew and Beans' wife as targets. State Property also stars Memphis Bleek, Omillio Sparks, and Sundy Carter.
Critic Reviews for State Property
Audience Reviews for State Property
It was a ok movie, but the people seem to make these gangster films are not rally saying nothing if you ask me.
David Johnson
½
I have no idea why all these people are so opposed to this movie. I remember watching it in and high school and thinking that this movie truly represents what making it big and crashing just as big in the inner city drug life will do. I wont speak for the acting, but I will say to say that the characters in this movie having no regard for life is being unrealistic just shows how little most people know about that lifestyle. I say yay for state property.
Christopher Rulo
½
I loved this movie. For those of you who didn't understand the movie, it was about a man and his people who wanted to run the hood, they did, ran it good, well he shot one too many people and end the end killed the witness who was to testify against him. Although he killed him, there was a silent killer unheard of. It was great. It's always the ones you least expect who will let it go like that, you know? Anyhow, It was an original ending! I give it five stars. It's a good hood movie if you how things go down and understand the lingo. It's hard.
Navaura Campbell
State Property Quotes
There are no approved quotes yet for this movie.
Discussion Forum
Discuss State Property on our Movie forum!