States of Grace
(2005)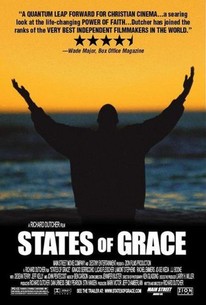 Movie Info
Two men of faith face different trials as they try to serve God while dealing with the realities of urban life in this drama. Elder Lozano (Ignacio Serricchio) and Elder Farrell (Lucas Fleischer) are a pair of Mormon missionaries trying to spread the word about the Church of Latter Day Saints along the rougher side of Santa Monica, CA. Lozano and Farrell don't have much in common on the surface -- Lozano is a Latino and a former gang member who has less than a week left in his mission, while Farrell is a naïve young man from Utah who is still fired up about doing the Lord's work. One day, while out knocking on doors to discuss the Book of Mormon, Lozano and Farrell find themselves caught in the middle of a drive-by shooting, and an African-American gangbanger, Carl (Lamont Stephens), lies bleeding on the pavement. Lozano gets Carl to the hospital, and Carl is at once grateful and confused that a Latino would risk his life for him. Lozano begins discussing faith with Carl, who starts showing an interest in the Book or Mormon, but Lozano isn't sure just what he should do to try to lure Carl out of gang life, with Farrell reminding them their first job is to spread the word. Meanwhile, Lozano has been having serious doubts about his role in the church as he questions his skills as a missionary, while Farrell is tempted when he develops a friendship with aspiring actress Holly (Rachel Emmers) that may be growing into something deeper. States of Grace was written and directed by noted Mormon filmmaker Richard Dutcher; the film is intended as a follow-up to his picture God's Army, and has been released in some territories as God's Army 2: States of Grace.
Critic Reviews for States of Grace
Audience Reviews for States of Grace
There are no featured audience reviews yet. Click the link below to see what others say about States of Grace!
States of Grace Quotes
There are no approved quotes yet for this movie.