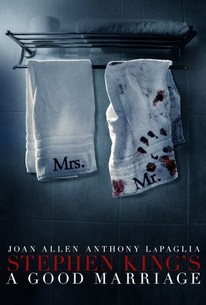 A Good Marriage
2014, Mystery & thriller, 1h 43m
22 Reviews
1,000+ Ratings
Flying Swords of Dragon Gate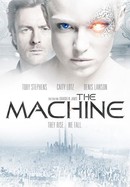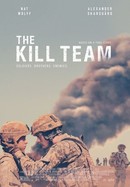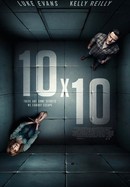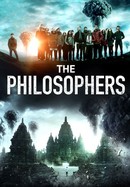 Rate And Review
Movie Info
While her husband (Anthony LaPaglia) of more than 20 years is away on a business trip, a woman (Joan Allen) accidentally discovers the man's sinister secret.
Rating: R (Violence/Disturbing Images|Some Sexuality|Language)

Genre: Mystery & thriller

Original Language: English

Director: Peter Askin

Producer: Will Battersby, Per Melita, Evan Pohl

Writer: Stephen King

Release Date (Theaters): limited

Release Date (Streaming):

Runtime:

Distributor: Screen Media Films
News & Interviews for A Good Marriage
Audience Reviews for A Good Marriage
Average. Didn't hate it, but it fell flat of what it could have been.

Not a particularly good movie to be honest. It's one that fails to fully realize the potential of its story from Darcy's viewpoint and what must be going through her mind as she discovers that the life she has led with her husband of 25 years has been a total lie. At least from how she views Bob after finding out that he is a serial killer. Films are, obviously, a more limiting form of storytelling than TV series or books. In a television series, you have considerably more time, over a number of episodes, in order to tell the story you want, within reason of course. A book, or a short story in a book full of them, can be as long as you want it to be. So you can play around with the character more than you would with a film, where you have a very limited amount of time. There's a reason that a lot of films, with the exception of superhero films and other epic-type films, don't go over 2 hours very often. But the movie doesn't do a good job at making its lead character sympathetic or likable. Finding out that the father of your children, the man you've loved for 25 years, is a notorious serial killer and that's not a knowledge that's easy to grasp. I understand that concept, but the film does it in as one-dimensional manner as is possible. There's no exploration of the strife that causes between Bob and Darcy. Darcy, upon being confronted by Bob about her finding out the truth, decides to keep her mouth shut in order to protect her family from any of the blow-back, which was bound to happen if she went straight to the cops. The problem is that when Darcy DOES decide to do something about it it's only because she had a vision of her daughter being killed like one of the women Bob killed. It's not even because she was just tired of covering up for a man and would, hopefully, give the families of the victims some kind of closure. No, it's because she had a VISION of her daughter being murdered by Bob. She didn't defend her daughter from an actual attack by Bob, she just had a vision of it. I'm sorry, but that makes Darcy come across as incredibly unlikable. She had knowledge that would give the families of the victims some sort of closure and she refused to give it to them because she was worried about how it would affect HER and HER family. She never once thought about the victims, all of whom were daughters to someone, it was all about her and her own family. I guess you could call it human nature, I call it shitty character development. It lays to waste a solid performance from Joan Allen. Not to mention the fact that the whole film feels completely empty. There's nothing here to justify the film being as long as it is and it's not even that fucking long in the first place. This is a 1-hour episode of any anthology series out there. The fact that this was stretched into a feature length film is grossly unjustified. There's this whole TV movie quality to the entire film, there's no real edge to any of what's going on here. There's no weight to any of it. And this is ironic considering the fact that Big Driver, an actual Lifetime TV movie, is so much better than this. I'm not even kidding. I realize I gave it an average rating, but considering how bad this movie is, this is like the difference between Date Movie and There Will Be Blood. Well, I wouldn't actually go that far. I'm prone to hyperbolic statements every once in a while. But this movie is terrible, outside of Joan Allen and she can only do so much. I wouldn't recommend this at all and I wish I had seen something else.
See Details