The Straight Story
(1999)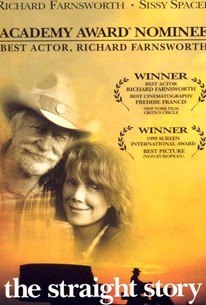 Movie Info
From director David Lynch comes a lyrical portrait of one man's real journey across America's Heartland. Filmed along the 260-mile route that the actual Alvin Straight traversed in 1994 from Laurens, Iowa to Mt. Zion, Wisconsin, "the Straight story" chronicles Alvin's patient odyssey and those he meets along the way. When not rolling along at five miles an hour aboard his '66 John Deere, Alvin encounters a number of strangers, from a teenage runaway to a fellow World War II veteran. By sharing his life's earned wisdom with simple stories, Alvin has a profound impact on these characters that color his pilgrimage.
Rating:
G
Genre:
, ,
Directed By:
Written By:
In Theaters:
On DVD:
Runtime:
Studio:
Critic Reviews for The Straight Story
Audience Reviews for The Straight Story
A surprise here even before the film gets to rolling: 1) Its a Disney production and 2) its directed by David Lynch. If ever there was unlikely matchup this is the one. And yet ... a remarkable effort, one for adults only, but not for the reasons you might think. An ailing elderly man travels across country to visit his ailing elderly brother - on a lawnmower. The action happens just about as fast as a lawnmower goes that's what'll freeze out the attention deficit disordered younglings. But for the older amongst us a unique look at a sober speed about what's truly important in life, with quality performances by all concerned.
Kevin M. Williams
Super Reviewer
½
An unusually straightforward and delicate film by David Lynch that calls for a bit of patience from the viewer but proves to be extremely moving and more than rewarding - and Richard Farnsworth is just wonderful, a world of emotions conveyed in every detail of his face and expression.
Carlos Magalhães
Super Reviewer
A David Lynch movie without murder, switched personalities, inner monologues or even the slightest hint of cynicism? Unbelievable? Indeed. And yet that's exactly what he delivered here with the heart-warming story of an old man traveling 500 miles on a lawnmower to see his ill brother. Of course the film is as slow as that sounds, but still so refreshingly kind-hearted, sweet and entertaining. Alvin Straight, incredibly convincing and lovably portrayed by the late Richard Farnsworth, meets people on the road and shares his experience with them. It is his face that stays with you long after the film, as well as the beautiful images of the fields he travels along, while the fiddles hum their Americana sounds. A beautiful, rewarding and deeply humane feel-good story that deserves all the praise it got.
The Straight Story Quotes
| | |
| --- | --- |
| Lyle: | Did you ride that thing all the way out here to see me? |
| Alvin Straight: | I did, Lyle. |
| | |
| --- | --- |
| Alvin Straight: | There's no one knows your life better than a brother that's near your age. He knows who you are and what you are better than anyone on earth. My brother and I said some unforgivable things the last time we met, but, I'm trying to put that behind me... and this trip is a hard swallow of my pride. I just hope I'm not too late... a brother's a brother. |
| | |
| --- | --- |
| Alvin Straight: | I'd give each one of 'em a stick and, one for each one of 'em, then I'd say, 'You break that.' Course they could real easy. Then I'd say, 'Tie them sticks in a bundle and try to break that.' Course they couldn't. Then I'd say, "That bundle... that's family." |
| Alvin Straight: | I'd give each one of 'em a stick and, one for each one of 'em, then I'd say, 'You break that.' Course they could real easy. Then I'd say, 'Tie them sticks in a bundle and try to break that.' Course they couldn't. Then I'd say, 'That bundle... that's family.' |
| | |
| --- | --- |
| Dorothy: | What's the number for 911? |