Straight to Hell
(1987)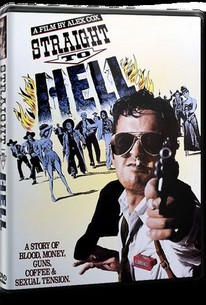 Movie Info
Not a sequel to director Alex Cox's quirky 1987 spaghetti western homage but instead a new version of the film featuring additional footage cut from the original release, a new color scheme, and some gruesome new digital effects, Straight to Hell Returns offers a cruel new vision of a quirky cult classic. In their exhausted bid to catch up on some sleep, black-suited hit men Norwood (Sy Richardson), Sims (Joe Strummer) and Willy (Dick Rude) miss their target, and realize their there will be hell to pay when the news gets back to their malevolent boss, Mr. Dade (Jim Jarmusch). With Norwood's pregnant bride Velma (Courtney Love) in tow, the three killers knock over a bank for some quick cash, and hightail it into the desert. But their bad luck takes a turn for the worse when their car suddenly dies, forcing them to bury the loot, and seek refuge in a dusty desert town. The following morning, the McMahon clan (The Pogues) rides into town and confronts the gang, though a bloodbath is narrowly averted when the three new arrivals gun down Rusty Zimmerman (Ed Tudor-Pole) as he attempts to arrest two key members of the clan. As a result, Norwood, Sims, and Willy earn the trust of the clan's leader Frank (Biff Yeager), and over the course of the next few days everyone rests easy while Sims and Willy romance a pair of pretty locals. But the shaky truce crumbles following a shocking act of violence among the McMahon's. Subsequently outfitted with an impressive array of weaponry thanks to mysterious arms dealer Mr. Fabien (Dennis Hopper), the killers prepare for battle as Mr. Dade arrives in town offering a handsome bounty for the heads of his three missing henchmen, and all hell breaks loose. ~ Jason Buchanan, Rovi
Critic Reviews for Straight to Hell
All Critics (8) | Top Critics (1) | Fresh (3) | Rotten (5) | DVD (4)
It's a very weird vibe, and it requires one to not only accept, but also embrace, boredom. If the movie has one theory, it's this: if you stare long enough at a certain spot, something weird and cool is bound to happen.
Audience Reviews for Straight to Hell
If I can't say anything else good about this film I can say that it is a boldly strange trip.
Graham Jones
Super Reviewer
"Straight to Hell" starts with three hitmen, Norwood(Sy Richardson), Simms(Joe Strummer), and Willy(Dick Rude, who also co-wrote), brutally murdering a bed, instead of their intended target. Fearing for their physical safety, they hightail it out of town with Norwood's pregnant girlfriend Velma(Courtney Love), but not before a little fundraising at the local bank. It's a shame they did not also buy a new car while they were at it because their old car breaks down in the middle of nowhere. Eventually, they stumble upon a town full of desperadoes, two of whom they rescue from bounty hunters. The quirky neo-punk spaghetti western "Straight to Hell" may have one of the strangest casts of all time(now, there's an idea for a list), made up largely of musicians that also includes Dennis Hopper, Grace Jones and Jim Jarmusch.(And somehow I missed Elvis Costello.) Of everybody, Joe Strummer makes the best impression. The eclectic cast and a certain chaotic energy are what makes this at least watchable, as director Alex Cox almost stumbles across a sign of intelligent life and thought.
Straight to Hell Quotes
There are no approved quotes yet for this movie.