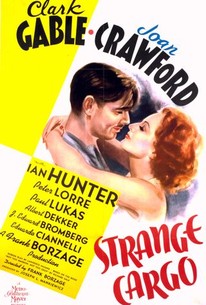 Strange Cargo
1940, Adventure, 1h 53m
8 Reviews
250+ Ratings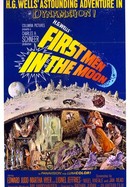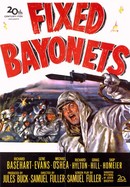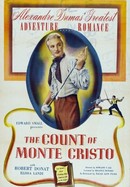 The Count of Monte Cristo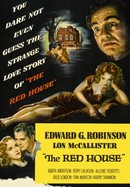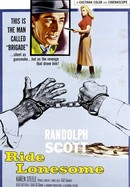 Where to watch
Rent/buy
Rent/buy
Rent/buy
Rate And Review
Movie Info
In a French Guiana penal colony, an escape attempt by hardened criminal Verne (Clark Gable) is thwarted by jaded prostitute Julie (Joan Crawford). Undaunted, Verne blackmails brutal killer Moll (Albert Dekker) to join his escape but is left behind only to be provided the route by a mysterious new prisoner, Cambreau (Ian Hunter). On the way to find Moll, Verne rescues Julie, and when they join the escape party, they find that Cambreau has a powerful, mysterious influence over the motley group.
Audience Reviews for Strange Cargo
Clark Gable's next picture after "Gone With the Wind" was "Strange Cargo," where he teamed back up with Joan Crawford. Instead of light romantic comedy, this time the legendary duo brings us complex, rather brainy drama. I would even describe this film as literary. It has its flaws, but "Strange Cargo" is an interesting and enriching work of art with an unusual spiritual undercurrent. Set in the South American jungle, it tells the story of an inmate in a remote penal colony (Gable) and a tough broad from the gutter with no family (Crawford) struggling to get by working in cheap nightclubs (probably including prostitution). Gable and several other inmates break out of the prison, and we follow them on their grueling trek. For reasons I won't explain, Crawford's character ends up going with them. Along the way, they all learn a lot about each other and the demons they're fighting. There are so many characters that it gets a bit dizzying, and the script sometimes is a bit overly brainy. But there's a lot here to appreciate, and I'm saddened that "Strange Cargo" has been so completely forgotten. In my continued exploration of the films of Joan Crawford, I'm realizing something more deeply than ever. The vast majority of good films have been forgotten. American culture has a bizarre tendency to forget about its movies. You'd think that good films would leave more of a trace in the culture. So much good work that no one knows about. One tidbit: the director of "Strange Cargo," Frank Borzage (a man I've never heard of before this), won a Best Director award at the very first Oscar ceremony in 1929. The film was called "Seventh Heaven," starring Janet Gaynor. She also won an Oscar that night. Another forgotten movie from a forgotten director, starring a forgotten actress.

It may seem a strange movie at first, but it's actually a very suspenseful drama, with a very interesting ending, and plus it's got a great starring cast with Crawford, Gable, and Lorre.

Two of Hollywood's powerhouses of that era teamed up to make what appears to be a pretty conventional prison break film, where Gable's lead character is very much an anti-hero. It's a bit over the top, even for the era it was made, but enjoyable to watch how the actors of that era worked together. I'd venture to say the scenes seem almost modern in construction, as opposed to the very stage-like methods used up until this time. Interesting supporting cast. Worth looking into it if you enjoy classic films.

Strange Cargo makes for good story.
See Details