Strange Invaders
(1983)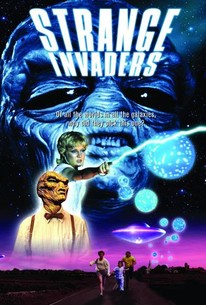 Movie Info
In this subtly humorous, alien-invasion film by Michael Laughlin, who co-wrote the screenplay with William Condon, the aliens infiltrate a small Midwestern town in 1958 and beam the "spirits" of several of the townspeople up to their spacecraft in little blue bubbles, while they settle into the bodies of their new farm personae. But Margaret (Diana Scarwid), one of their number, leaves for life and marriage in New York and has a daughter Elizabeth by her earthling husband Charles Bigelow (Paul LeMat), a professor. After two decades or so go by, the aliens opt for returning to their home planet, but they have to first go to the city dressed as farmers and round up Margaret and her daughter. Soon Charles figures out what is going on with the help of the tough, optimistic Betty Walker (Nancy Allen), a reporter for a tabloid paper, and the two head to the town where it all started.The light contrast between the bucolic '50s and the street-wise '80s gives way to a few shocking scenes of repugnant aliens in transformation with formidable special effects.
Critic Reviews for Strange Invaders
Audience Reviews for Strange Invaders
Ultimately this lives up to the feel of a midnight movie with its tone similar to sci-fi of yesteryear mixed in with the 80's. Some of the effects are cool while others are cheesed out. Every time I started to get bored something would happen. I almost feel like this could go along in a marathon of Night of the Creeps, Night of the Comet, and Invaders from Mars..
Rodney Eckrich
½
Interesting and a bit creepy. Wasn't the best movie I ever saw, but not bad for something on TV.
Nicki Marie
Super Reviewer
½
For some reason, this movie used to scare the crap out of me as a child.
Sean Gillespie
Super Reviewer
Strange Invaders Quotes
There are no approved quotes yet for this movie.
Discussion Forum
Discuss Strange Invaders on our Movie forum!