Strange Weather
(2017)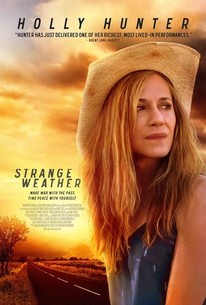 Movie Info
Academy Award winner Holly Hunter gets behind the wheel in this engrossing story of a woman's quest for rectitude in the wake of harrowing loss. Steeped in a strong sense of place and peopled by convention-defying characters, Katherine Dieckmann's Strange Weather draws you into its sultry Southern milieu and takes you on a back-roads trek you won't soon forget.
News & Interviews for Strange Weather
Critic Reviews for Strange Weather
Audience Reviews for Strange Weather
A stunning performance by Holly Hunter elevates this careful treatment of the subject of youth suicide. This is no simple revenge tale; instead, the film is only about one thing - the mother and her enduring love, pain and rage after her son's suicide. It is a long process for her to arrive at the point where she can resolve some of it and go on with life, but there is no simple closure. This is a complex, powerful screenplay, not wedded to formulas. Hunter as actor invites a fleeting comparison with Isabelle Huppert: there is a bit of physical resemblance, and both have a surgical approach to the role. But Hunter is ferocious. Her physical presence is as wrought as her emotions - all muscle and sinew, and stringy hair, a face hard-bitten with anguish and determination. Her scenes with the boy's father, and the boy's friends, go deep into the issues; and these men are anything but stereotypes. Putting all of the sharp edges of the story into relief is a kind woman friend, who is all softness and understanding. If you were hoping for Thelma and Louise, think again. This is not adventure, but a raw account of what suicide does to those left behind. Yet it doesn't forget the audience: it is full of humour, the old dog and the truck are stars, you see the real American South, devoid of Hollywood gloss, and you glimpse into the American ethos of individualism and enterprise. And you can watch a star filling the screen to bursting, who makes Keith Richards look innocent, and Isabelle Huppert mild-mannered. Maybe that's what it takes.
Strange Weather Quotes
There are no approved quotes yet for this movie.