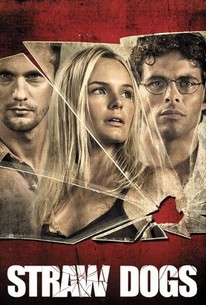 Straw Dogs
2011, Drama/Mystery & thriller, 1h 50m
128 Reviews
10,000+ Ratings
What to know
Critics Consensus
This remake streamlines the plot but ultimately makes a fatal mistake: It celebrates violence. Read critic reviews
Where to watch
Rent/buy
Rent/buy
Rent/buy
Rate And Review
Movie Info
Married couple David (James Marsden) and Amy (Kate Bosworth) move to her hometown of Blackwater, Miss., after her father's death. They have a plan to renovate Amy's old home and prepare it for sale while David works on his latest screenplay. However, the sophisticated couple's arrival stirs resentment and suspicion among the locals, especially from Charlie (Alexander Skarsgård), Amy's former boyfriend. Tension continues to build, leading to an extremely violent confrontation.
Rating: R (Menace|A Sexual Attack|Pervasive Language|Some Sexual Content|Strong Brutal Violence)

Genre: Drama, Mystery & thriller

Original Language: English

Director: Rod Lurie

Producer: Marc Frydman

Writer: Rod Lurie

Release Date (Theaters): wide

Release Date (Streaming):

Runtime:

Distributor: Sony Pictures Entertainment

Sound Mix: SDDS, Dolby Digital, DTS
News & Interviews for Straw Dogs
Audience Reviews for Straw Dogs
I have yet to see the original "Straw Dogs," but this remake does hold up quite well, even if it is ultimately forgettable. I've always found James Marsden to be a likable actor, and even if his character seems to be the root of the most of the chaos found in "Straw Dogs," he pulls through with a great performance. The biggest problem I can think of is that the director, Rod Lurie, practices a lot of restraint when it comes to the film's meatier bits, and that drastically affects the overall power that the film has. But it's nevertheless good entertainment.

When I heard that they were remaking Straw Dogs, the 1971 psycho thriller directed by Sam Peckinpah and starring Dustin Hoffman, I was intrigued, especially when I discovered that they were setting the film in the Deep South. Yeah, rednecks on the warpath - something I had considered when I viewed the original in high school - it makes so much sense placing all the good old boy small town mentalities and redneck ways in the deep south instead of England (at least it appeared so to me at the time). Now, much has been said about the extreme visual violence displayed on screen in 1971 (they just didn't DO THAT back then), and it has been theorized that Peckinpah was making a statement (to the effect that the film was a contemplation on violence and that every human has a breaking point where he is forced to revert to more primal instincts in order to protect what is his). I didn't buy all that sophist stuff then, and I'm not buying it now. Yes, this is a violent film, and yes, the stereotypes are all on display - macho "real man" versus a more "sophisticated" man of words... and yet, while superficially entertaining, the entire enterprise has a "been there, seen that" feel to it (more than what should be justified by seeing the source film, or reading the quite excellent book that was the fountainhead for both. Cliché piles atop cliché, and director Rod Lurie seems unable to stop this runaway train - it's almost as if his choice of staging the film in Mississippi is too perfect - you don't even raise an eyebrow when the drunken good old boys get all riled up and decide to lay siege to the "city boy" and his domicile. You can almost hear banjos in the background (at least Lurie showed some restraint in that regard). And yet, the cinematography and acting on display are so much better than you'd expect from a potboiler "thriller" of the "don't go into the backwoods" kind of film. James Wood in particular as the drunken former high school football coach, is in fine form. He's mean, he's scary, he sneers at everything and tells off color racist jokes - everyone laughs with him, probably fearing that he'll break a bar stool over your head if you don't. The rest of the hoodlums are forgettable, though Alexander Skarsgard shows a bit of depth as the former quarterback who manages to maintain some creds as a big fish in a very small pond. He is the stuff that the title refers to: a Chinese tradition where they anoint these straw dogs in some ceremony and then, after said ceremony, they throw them away. Skarsgard knows he is trapped in nowhereville - to leave would be to become a minnow in that great big ocean out there - better to be a bottom feeding catfish trolling the murky waters at your own pace and reveling in what used to be. To me, this psychological aspect carries more weight than the Lord of The Flies, man resorts to his base nature babble. Sure, said babble is part and parcel of the violence - but I don't feel that, in this instance, the film warrants that kind of analysis... just let it be a bit of mild entertainment that has a very violent streak. I mean, the purported "depth" is there (and heavyhanded) if you want to examine it; the LA screen writer (ably played by James Marsden), is writing a WWII screenplay about the battle for Stalingrad (reveling in the violence of a prior age as an inkling to his buttoned down psyche... ho hum). His home is threatened, his marriage is threatened - he is bullied and made fun of by the locals... he turns the other cheek, as a civilized man should... until it's kill or be killed time (all couched within a "stand for your morals" bit of overstatement). A great film would have you wondering "what would I do in the given situation?" While the unfairness and bullying of the situation did raise my blood pressure about two points, I never felt completely absorbed nor intellectually prodded by any of the human questions that Lurie was trying (I think) to mine.

The original Straw Dogs was a masterwork of raw, gritty violence that relied on a great cast and effective directing and told a truly engrossing story. Of course Hollywood found it in their hearts to remake a defining cinematic classic with a subpar cast that simply don't deliver anything worthwhile on-screen. This reboot of Straw Dog is sloppy, lazy and above all boring and predictable. Replacing immaculate performances with overacting is not the way to go, and there are several scenes that don't work. The original was stellar and is a picture that should be seeked out by cinephiles; however this one fails due to the fact that it relies way too much on the original source material and the filmmakers simply recycle and update key scenes of the original. The result is a film that just isn't worth your time. If you've seen the original, then you can skip this one as it is nearly a frame by frame remake and aside from changing a few elements is the same movie. I hated the film, and it was totally unnecessary to remake it as the original was a wonderful dramatic psychological thriller that hit the right notes of making you feel uneasy without turning you off the film due to its content. That was due in part to the great cast who performed well in front of the camera and made something groundbreaking in the process. This version is just violent for the sake of being violent. There's nothing good here and it just a remake for the sake of making a quick buck. Pass this one up; you'll be glad you did. Watch the 1971 Straw Dogs instead as it a classic film, while this one is plainly forgettable.

The end credits claim to be 'based on the film by Sam Peckinpah', but if so writer/director Rod Lurie seems to have completely missed the point about the inherent savage and violent nature of man and offers a run-of-the-mill home invasion would-be thriller. The original contains one of the most memorable scenes in any film when Dustin Hoffman beats a man to death with a golf club while bagpipes play a fanfare, a shocking depiction of violence as sport that is almost comical. Here the golf club is just another instrument of death as the method of killing is much more important to this director than exploring any meaning behind it. I could give further examples but why bother? Suffice to say that some remakes/reimaginings of hallmarks of violence from the 1970s, like <i>Texas Chainsaw Massacre</i> and <i>Last House On The Left</i>, might be worth your time, but this certainly isn't one of them.
See Details