The Strawberry Blonde
(1941)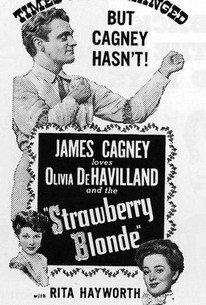 The Strawberry Blonde Photos
Movie Info
In this lyrical and picaresque evocation of turn-of-the-century New York, a dentist faces memories of his infatuation with a "strawberry blonde" gold-digger.
Critic Reviews for The Strawberry Blonde
Audience Reviews for The Strawberry Blonde
½
Winning comedy drama that started Rita Hayworth's ascent to stardom. Olivia and Jimmy are well matched and Jack Carson is at his slick oily best. Good direction and fine supporting cast.
½
James Cagney? Olivia de Havilland? Rita Hayworth? What more do you want, spontaneous barbershop quartets? Yes. How about the dad of "the Skipper" from Gilligan's Island engaging in olde timey fisticuffs with guys wearing handlebar mustaches? Okay, you'll find that here too. Cagney plays a hot-headed dentist named Biff (who his foreign friend calls "Beef") who's married to the knockout Olivia de Havilland, but all he can think about is the one that got away (Hayworth). It's not just that she got away, but that she ran off with a booming-voiced showoff and all around jerk (played by the well-enunciated Jack Carson). When the creep unknowingly makes an appointment with his old pal dentist for some emergency tooth ache pulling, Biff plots a revenge that may include murder, and sets up the flashbacks which will tell his life story and the wrongs done to him over the years by this man. Set in the early 1900s, the film makes comical use of all the customs and beliefs that were popular at the time: from women's suffrage to the aforementioned barbershop quartets and handlebar mustaches (even George Reeves, the man who would become Superman, gets in on the handlebar mustache thing). Let's face it, you just can't make a period piece without using certain signature elements. You wouldn't make a movie set in the 1960s without including hippies, you wouldn't make a 50s film without beatniks, and you certainly couldn't make a film set in the 90s without referencing grunge (well, obviously you could do all these things, but for some reason most mainstream filmmakers choose not to). Things from the past often times just look silly to people in the present. Cagney does a good job being "Cagney" in this role, but overall the film is a little shallow. It is none the less an easily enjoyable, if overall lightweight film.
Devon Bott
Super Reviewer
The Strawberry Blonde Quotes
There are no approved quotes yet for this movie.
Discussion Forum
Discuss The Strawberry Blonde on our Movie forum!