Stray Dog
(1991)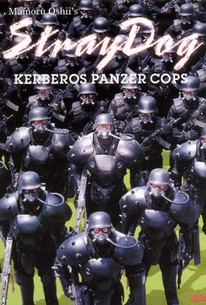 AUDIENCE SCORE
Critic Consensus: No consensus yet.
Stray Dog Photos
Movie Info
Years after the commander of an elite task force escapes a violent uprising by the corrupt brigade and his entire unit is imprisoned, one of his most dedicated pupils sets out to seek revenge in Ghost in the Shell director Mamoru Oshii's dark futuristic tale. When the Metropolitan Police's most fearsome unit -- the Kerberos -- became too powerful for the authorities to control, government officials demanded the group disarm, a command that was ultimately met with bloody resistance. Unlike the majority of his squad who were imprisoned following the uprising, Kerberos squad leader Koichi Todome escaped to start a new life. Released from prison after serving an excruciating three-year sentence, Todome's former squad member Inui vows to find his former commander at any cost. Upon achieving his goal, Inui is shocked to discover that his desperate search was not guided by his own free will, but by a higher power with an unknown motive.
Rating:
NR
Genre:
, , ,
Directed By:
Written By:
In Theaters:
On DVD:
Runtime:
Critic Reviews for Stray Dog
There are no critic reviews yet for Stray Dog. Keep checking Rotten Tomatoes for updates!
Audience Reviews for Stray Dog
This film is a lot slower than its predecessor as it seems to be more interested at times to give us a tour of China, but it pays off well at the end. Beautiful and haunting. Recommended.
Robert Ramos
I did not enjoy this as much as the first one. Mainly this film was just shots of people walking while relaxing music was played in the background. The cover is misleading because that shot is shown for maybe 2 seconds at most. I do not know why but the coolest part at the end and the beginning with the Armor suit guys shooting people up overshadows the need for random comedy bits, eating food and long walks. It is different though but I am not sure the message of the film in the sense of what the director is trying to say. I understand the premise of the stray dog doing his last will for his master but was the director trying to tell a story in a different way. I mean I wish I could see an interview on the director about this movie.
Matthew Marks
Despite being a bit overlong and perhaps "overly artsy" this film was a fascinating experimental piece from director Mamoru Oshii (known for Avalon, the Ghost in the Shell films, and soon probably Sky Crawlers also). It has the exact same self-indulgent but extremely beautiful style that has populated his films since and is a fascinating look at what happens when you take a universe like that of the Kerberos Panzer Cops and decide to make an intimate, artistic, surreal character study out of it. It doesn't hit on all cylindars, but there was a lot for me to appreciate. There's a lot of great qualities to it and it's an enjoyable film. It's not an entertainment film per se (although the shoot-out towards the end is pretty cool), but it's one of those movies that you sort of just chill out, kind of doze in and out of, and "feel" more than witness. Kenji Kawaii's score helps that aspect a lot, as well as the fantastic performances and gorgeous cinematography.
Christopher Jayawardena
Discussion Forum
Discuss Stray Dog on our Movie forum!
News & Features