Strike (Stachka)
(1925)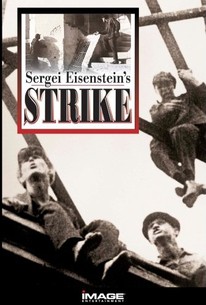 Movie Info
This Russian film is a government-commissioned celebration of the unrealized 1905 Bolshevik revolution. The story is set in motion by a series of outrages and humiliations perpetrated on the workers of a metalworks plant.
Critic Reviews for Strike (Stachka)
Audience Reviews for Strike (Stachka)
If Russian or experimental or documentary films intrigue you, you will enjoy seeing this film. If that isn't your cup of tea, don't watch it. Personally I can't stand these movies, they are always about the revolution and factory workers, and they don't have less than ten main characters normally. There needs to be more story and more focus for this movie to be exciting, I think. Overall, it's slightly more interesting than other films like it because of the cinematography, but I still did not enjoy it nor do I think it's a good film, it's just okay.
½
Sergei M. Eisenstein made "Strike", his first feature film, with barely any professional film training and proved his skill as a Director instantaneously upon the film's release! He used a quick shot to summarize his messages like no one had before and near the end of the film it is all the more apparent. In the beginning and throughout the film, these images are used sparingly and usually only one image is shown. Nearing the end however when the revolt is "dealt with" we are shown a barrage of imagery all with a poignant and totally devastating message. Numerous film techniques are on display in "Strike" and the success of this first feature guaranteed his creative control of his next film masterpiece "Battleship Potemkin" that was to come. This is a hugely influential and important piece of cinema that is essential viewing for anyone interested in film!
Chris Browning
Super Reviewer
½
[font=Century Gothic]"Strike" is a 1924 silent film directed by Sergei Eisenstein. In it, workers toil all day long at a factory in Czarist Russia. Relations between workers and bosses are peaceful but tense. Suddenly one day, an expensive instrument is stolen from a worker's desk and the innocent worker is accused of the theft. With little choice, he commits suicide. Out of sheer outrage, the workers call a strike.(One of their radical demands is an eight hour work day.)[/font] [font=Century Gothic][/font] [font=Century Gothic]"Strike" is hardly subtle but then it really does not have to be in order to be effective. Eisenstein realized the power of images to affect people and there are some unforgettable images in this film. My main problem with this film is that the main storyline is rather disjointed. Various characters are introduced, then abandoned, then returned to again. Maybe focusing on less characters would have helped. [/font]
Strike (Stachka) Quotes
There are no approved quotes yet for this movie.