Stunt Rock
(1980)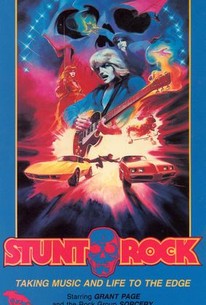 AUDIENCE SCORE
Critic Consensus: No consensus yet.
Movie Info
Australian stuntman Grant Page accepts a job on an American television series and travels to Los Angeles, where he reunites with old friend and fellow daredevil Curtis Hyde. The hirsute Hyde performs magic tricks and feats of daring for a heavy metal act called Sorcery, each gig playing the part of a demon locked in "cosmic combat" with Merlin the Magician (Paul Haynes) while the band blasts out a theatrical but muscular hard rock. Page's first stunt for the cameras goes awry and he is hospitalized, but defies his doctors by escaping out a fifth story window to get back to the set. Such reckless behavior attracts the attention of a newspaper reporter (Margaret Gerard) who is writing an article on people obsessed with their careers, as well as a TV star (Monique van de Ven) who finds herself drawn to the stuntman's professional fearlessness. Together they attend Sorcery concerts, enjoy Hollywood parties with the band and explore the nature of extreme living. Director Brian Trenchard-Smith worked with Page on an earlier "stuntsploitation" film called Deathcheaters, which also featured plenty of hair-raising stunt work.
Critic Reviews for Stunt Rock
All Critics (2) | Fresh (1) | Rotten (1)
An exceptional ride that offers thrills, grins, and an impressive argument for the supremacy of Australian cinema during the 1970s...The blast of wizard-sleeve hellfire and teeth-rattling metal sludge is irresistible.
Audience Reviews for Stunt Rock
Do you like stunts? Do you like (bad seventies) rock? Well that's pretty much all there is in Stunt Rock! The "story", of which there really isn't one, just exists to serve up stunts and rock. Stunts. Rock. Seriously. That's it. It's gloriously cheeseball and perfect viewing after a rotten day.
Stunt Rock is certainly nothing like you've seen before. It's one of those cases where the title is the perfect description of its content: a series of stunts and rock and roll. As it turns out, both are pretty entertaining. The stunts range from falling off buildings and being set on fire to jumping off of a cliff backwards. So if you're into that you'll dig it. The music is Alice Cooper and J.R.R. Tolkien meet Spinal Tap. It's pretty decent hard rock, of which I'm a fan, so if you like that you'll dig it too. There's not really any sort of narrative and it keeps going back and forth from stunts to live rock. It's a different kind of beast. As a film, it's terrible, but it winds up being enjoyable for the sheer entertainment value. It's not something that would work in any time frame either, even if it was released today. If you're into seeing something a bit strange, then by all means.
Tim Salmons
Super Reviewer
½
"Stunt Rock" is an unusual but awful movie that fails to pass the crucial "so bad, it's good" test. Its title perfectly describes the film: half stunts, half rock 'n' roll. The stunts are supplied by an amiable Australian (Grant Page), while the music comes from a gimmicky hard-rock band called Sorcery. Clearly an also-ran from the KISS/Alice Cooper school, the group performs onstage with two magicians (one is a Gandalf-like wizard and the other is "the Prince of Darkness"). The pair's fire-heavy tricks are generally in the mode of cabinet illusions where a confined subject miraculously escapes torture or death, but there is one impressive bit where the wizard is seemingly impaled on a sword. The film is essentially a documentary that strains to insert a weak excuse for a plot. The stunt man and Sorcery are linked because Page is supposedly cousins with a band member, but otherwise the action just alternates non-fiction looks at Page's stunts and the band's badly dated music. Sorcery is allegedly amidst a three-night stand at the huge Inglewood Forum (fat chance) and also is recording some songs. The band lays down studio tracks as if they're onstage, as multi-colored lights flash and the singer whirls his mic like Roger Daltrey. Ridiculous. Meanwhile, a pretty journalist hopes to write an article about people consumed with their jobs and latches onto the stunt man. Their relationship doesn't go anywhere. Neither does the film. With an extensive re-edit, an exciting documentary about a versatile, charming stunt man might be possible. Falls, fire, cars, hang-gliding, the high wire...Page does it all.
Eric Broome
Super Reviewer
Stunt Rock Quotes
There are no approved quotes yet for this movie.