Sunflower
(2007)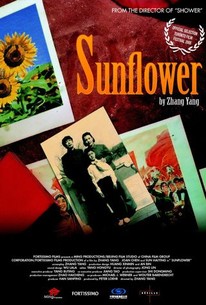 Movie Info
"Sunflower" is a powerful and touching look at the compelling inner dynamics of one post-Cultural Revolution family in Beijing and their struggle over 30 years to adjust to each other as the fabric, politics, and social mores of Chinese society change ever so rapidly. It spans the course of three decades--focusing on the years 1976, 1987 and 1999--in the lives of Zhang Gengnian and his son, Xiangyang.
News & Interviews for Sunflower
Critic Reviews for Sunflower
Audience Reviews for Sunflower
Chinese drama about a father, returned from 6 years in a work camp, and his son, who's going to be an artist like dad whether he likes it or not. Interesting, and no doubt fully approved by the Chinese government.
½
[b][size=5][color=brown]向日葵 - SUNFLOWER (SUNCOKRET) (2005)[/color] [/size] [img]http://upload.wikimedia.org/wikipedia/en/thumb/9/94/Sunflower_Poster.jpg/200px-Sunflower_Poster.jpg[/img] [color=red][i]Ova drama iz Kine u režiji Zhang Yang-a (SHOWER) ide u detalje analizirajući život kineske porodice u vreme kulturne revolucije i prvog dela XX veka. [img]http://images.rottentomatoes.com/images/movie/gallery/1185558/photo_02_hires.jpg[/img] Odrastanje dečaka koji ima problema prihvatiti oca koji se vraća sa odsluženja kazne je tema koja polako prelazi u odrastanje i shvatanje okoline veoma talentovanog tinejdžera koji ne želi ići stopama svoga oca. Ali sudbina je ipak ona koja odlučuje kuda dalje... [img]http://images.rottentomatoes.com/images/movie/gallery/1185558/photo_01_hires.jpg[/img] Suncokret (na kineskom 向日葵; i na pinyin: Xiàng rì kúi) je četvrti film režisera Zhang Yang-a i rađen je u ko-produkciji sa Ming Productions, Beijing Film Studio i Hong Kongškim predstavništvom holandske kompanije Fortissimo Films. [img]http://images.rottentomatoes.com/images/movie/gallery/1185558/photo_03_hires.jpg[/img] Film je podeljen u tri glavna dela, prvi se dešava 1976 godine sa povratkom umetnika Gengniana svojoj porodici ; drugi deo se dešava 1987 kada Xiangyang (to bi trebalo značiti "suncokret" koliko sam ja razumeo) ima 19 godina i treći deo se dešava 1999 godine, kada je dečaku već 30 godina. [img]http://images.rottentomatoes.com/images/movie/gallery/1185558/photo_05_hires.jpg[/img] Glavne zvezde filma su Sun Haiying i Joan Chen kao muž i žena, a uloge sina u raznim godištima (fiml se bavi razdobljem od 30 godina) tumače glumci Zhang Fan, Gao Ge i Wang Haidi. Veoma lepo umetničko delo koje posebnu pažnju posvećuje ljubavi i nemogućnosti da se ona jasno izrazi u datim trenucima. Moja je ocena 7/10 i rado preporučujem ovaj film svim generacijama.[/i][/color][/b]
½
A wonderful film! Yang Zhang has produced a masterpiece.
John Ballantine
Super Reviewer
Sunflower Quotes
There are no approved quotes yet for this movie.
Discussion Forum
Discuss Sunflower on our Movie forum!