The Sun's Burial (Taiyo no hakaba) (Tomb of the Sun)
(1960)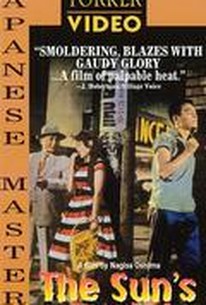 AUDIENCE SCORE
Critic Consensus: No consensus yet.
The Sun's Burial (Taiyo no hakaba) (Tomb of the Sun) Photos
Movie Info
The epidemic of juvenile delinquency in the mean streets of a Tokyo slum is depicted in this sordid story of sex and violence. The group is dwindled by suicide, murder, gang warfare and accidents as they engage in arson and gunplay. Plagued by drug and alcohol problems, the members of the gang head down the dead-end street to oblivion, despair and certain death. The film attempts at the beginning to give some semblance of a stance on morality before the depraved characters begin the inevitable downward spiral. ~ Dan Pavlides, Rovi
Critic Reviews for The Sun's Burial (Taiyo no hakaba) (Tomb of the Sun)
All Critics (2) | Fresh (2) | Rotten (0)
Oshima offers an unsettling portrait of an amoral and ruined postwar Japan.
The sun is the crimson one in the imperial flag, given a scalding funeral in Nagisa Oshima's implacable view of postwar scavenging
Audience Reviews for The Sun's Burial (Taiyo no hakaba) (Tomb of the Sun)
"The Sun's Burial" is a difficult film to like. Its locations are squalid. The actors need a shower, and are sweaty almost to the point of self-parody. Every character (except one, arguably) is corrupt or violent, and only out for personal gain. And that one exception commits some heinous acts when not questioning himself. The setting is an Osaka slum, where crime is a routine certainty. The action includes murder, suicide, rape, beatings, prostitution, robbery, arson, adultery, animal cruelty, identity fraud and more. A father isn't even above peeking up his daughter's skirt for a thrill. No one is redeemable. The biggest problem with this early Nagisa Oshima film is that there's no one with whom to identify. No real protagonist. Most characters are weakly distinguished from each other, and there's no central person to follow through the story. A young, beautiful woman who sells her body at night and operates a shady blood bank during the day eventually becomes the focus, but since the plot opens with two lads who join a gang together, it's awkward to switch our empathy from them to the girl. "The Sun's Burial" seems ahead of its time, considering that the French New Wave was barely underway in 1960, and that America's own take on moral depravity was offered in glossy flicks such as "Ocean's 11," "Butterfield 8" and "Elmer Gantry." Oshima's direction is typically fearless, and an attractive cast and vivid color palette help balance the ugly scenario. But the film is still a dour, tiring journey.
Eric Broome
Super Reviewer
The Sun's Burial (Taiyo no hakaba) (Tomb of the Sun) Quotes
There are no approved quotes yet for this movie.