Super Fuzz
(1980)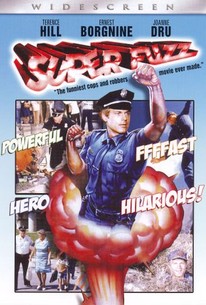 Movie Info
Dave Speed is no ordinary Miami cop--he is an irradiated Miami cop who has developed super powers. Unfortunately, he doesn't quite know how to use them and this gets him in trouble with his long-suffering partner. The film was also known as Supersnooper.
Critic Reviews for Super Fuzz
Audience Reviews for Super Fuzz
There are actually a couple of different versions of the early 80's cable classic Super Fuzz floating around out there, but the one that's the most prominently available is the version entitled Super Snooper, which contains its own theme song, extended scenes and alternate dialogue. If you haven't seen this little gem, do yourself a favor and get a copy of it. This is insanely cheesy cop flick goodness with a side of ridiculousness. It's one of those movies that's so bad that it's good, and I can totally understand why it was a lot of folks' favorite film when they were kids. Everything from talking to fish, telekinesis, unnatural strength - you name it, he's got it. This movie is ridiculously fun, and if you can check your brain at the door, you'll enjoy it.
Tim Salmons
Super Reviewer
Super Fuzz is about young Miami police officer Dave Speed (Terence Hill) who develops super powers after exposure to a NASA experimental rocket explosion. Soon he is able to run as as fast as cars, catch bullets in his teeth, walk on water, see through solid objects, and blow bubble gum bubbles the size of hot-air balloons. The only problem is that he loses his powers at real inconvenient times which lead to some hilarious results. It takes him a majority of the film to figure out what his own "kryptonite" is: he loses his abilities anytime he sees the color red. The color red was the same color as the explosion, so that technically gave him his powers, but now the color takes them away. Speed and his veteran partner Sgt. Willy Dunlop (Ernest Borgnine) set out to stop a counterfeit money tycoon Torpedo (Marc Lawrence) and his henchmen. One of them happens to be an aging starlet Rosy Labouche (Joanne Dru), who Dunlop has an uber crush on and really complicates matters. I got my hands on the DVD recently after not having seen the film in close to 20 years, my memories of a funny superhero flick was prevalent in my mind. But I was extremely worried that I would now see the film it in a totally different way...which I did. But I would not necessarily say that I now see it in a bad way at all. The film is not a great one by any means. The acting is not the best, the film itself is extremely dated but that stuff aside, this is a major cheese-fest and I am proud to say that love it for being so, much like Hard Rock Zombies. And like Hard Rock Zombies, this film never takes itself seriously. The physical comedy and situations are pure sharp cheddar! It is a strange take on the superhero film genre mixed with comedic elements by Italian director Sergio Corbucci. The structure of the film is setup as one major flashback. Speed is on death row and being led to the electric chair after eating an enormous amount of baked beans (wow what a way to go out!). He cannot believe how things were going so well for him and now he was headed to his death. The rest of the film is told in a flashback format until things come full circle with him being charged for the death of officer and friend Dunlop. He gets strapped in the electric chair and sees that Rosy was kind enough to send him a large floral arrangement of red roses. Instructions are that the roses must be in the same room as him when they pull the switch. Nice. There's just some kind of charm this film has that makes me love it, cheesy or not. I don't know if it's the slapstick comedy, how angry Dunlop gets at every little thing Speed does for no reason at all, or the sound byte that plays from the theme song every time Speed uses his powers: "Soopa-soopaaaaah!" Or maybe it's the scene where you have to suspend belief (even though it's in a superhero movie) when Speed first gains his powers. So NASA would be blowing up rockets over the Everglades (the Glades are not that big to be doing something that dangerous) in a secret experiment that's so secret, the cops know about it. And the reason that Dunlop accidentally sends Speed there in the first place, besides being pissed at him, is to serve a parking ticket to a man who lives on a small reservation on a little island. An island that is so desolate, Speed needs to use a canoe to get there. When he arrives on said island, there's no cars anywhere. WTF did he park to get a parking ticket since he didn't have a car?! It's obvious he needs a boat to get around. Did the man tie up his boat in a tow away zone? Did he pull his raft too far onto shore? That is something I never really picked up on as a kid but made me laugh my ass off when I watched it recently. I didn't realize this when I was younger, but lead actor Hill was a a pretty big star in Italy with a good-sized fan following based on his string of Italian spaghetti westerns spoofs. His most popular of that subgenre is My Name is Trinity. And the man was 49-50 at the time of shooting Super Fuzz! 49 years old?! Is he a vampire? Wow does this man have some great genes and I hope I look that good when I'm his age. It was a nice stroll down memory lane to see this film again and a weird feeling to enjoy it on a whole different level. Again, it's flawed but it's still goofy fun. B-movie cheese to the umpteenth degree. If you watched it and liked it as a kid, please don't feel afraid to walk down that road again. For the newcomers, don't set the bar too high and expect a silly ride.
David Ladd
Super Reviewer
Anthony Valletta
Super Reviewer