The Supernaturals
(1986)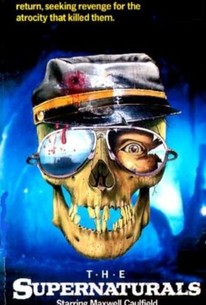 AUDIENCE SCORE
Critic Consensus: No consensus yet.
Movie Info
The terror in this chiller is more implied and the blood and gore is minimal as it tells of the strange adventure of an African-American female Army Sergeant and her recruits as they head through the forest of Alabama on a survival mission. It all begins when a lieutenant sees the apparition of a mysterious woman. Next a private finds a skull while others are made nervous by bizarre winds and the strangely burned ground thy find. Eventually the unit finds an empty subterranean bunker and that's when people begin to die. Eventually a mysterious fog rolls in and they see that their killers are the ghostly remains of Confederate soldiers who do not realize that the war is over.
Critic Reviews for The Supernaturals
There are no critic reviews yet for The Supernaturals. Keep checking Rotten Tomatoes for updates!
Audience Reviews for The Supernaturals
Funny, Witty, Clever . . . of course EVERYONE will say its stupid but I LOVE THE SUPERNATURALS (aka Ghost Soldiers aka Ghosts of the Confederate Dead) dearly; Levar Burton and Nichelle Nichols (two quality actors from STAR TREK), Maxwell Caufield from GREASE 2. This is the first time I saw Union Civil War Soldiers acting mean: A little boy Evan is strolling through a "War of Northern Aggression" (the Southern name for The Civil War) and puts-on the gray uniform of a dead Confederate Soldier. A Union Soldier CATCHES HIM and orders Evan and other captured Confederate Soldiers to walk across a mine field . . . EVAN'S MOTHER suddenly breaks loose from the crowd of spectators and is BLOWN-UP by a mine. Evan possesses psychic power to raise the dead and raises his mother from the dead. a hundred and 120 years later Evan's Mom BADGERS Evan into raising the dead bodies of Confederate soldiers to KILL a platoon of modern soldiers on a training mission in the deep south. I haven't seen this in 25 years . . . BUT I'm sure I still LOVE it!!!!! but again YOU GUYS will probably hate it . . . today's audience is IMPOSSIBLE to please it seems especially when the film is "a hundred years old from the 1980s" and only available on VHS . . .and not on DVD. UPDATE 4/11/2011): I just watched THE SUPERNATURALS again last night Evan's widow is named MELANIE and Private Ellis is Evan reincarnated (sort of)--but . . . I was dealing with past lives and Melanie (a girl so named, it was like she and I shared very similar experiences or hold very similar attitudes and responses towards things.) JEREMY is THE BOY at the beginning of the movie and Melanie and Evan's gifted son. It's STRIPES meets PLATOON meets Night of the Living Dead meets Gettysburg you'd say
Gordon Terry
This movie really doesn't pick up until the second half. But there is a lot of zombie confederate and super powers at the end. don't get your hopes to high because of the rad cover
Ian Bracken
The Supernaturals Quotes
There are no approved quotes yet for this movie.
Discussion Forum
Discuss The Supernaturals on our Movie forum!