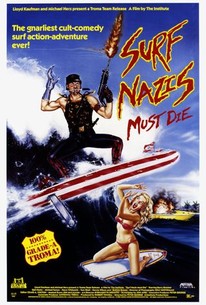 Surf Nazis Must Die
1987, Comedy, 1h 22m
6 Reviews
5,000+ Ratings
Rate And Review
Surf Nazis Must Die Photos
Movie Info
An angry mother (Bobbie Bresee) hunts neo-Nazi surfers for killing her son in a California of the near future.
Audience Reviews for Surf Nazis Must Die
"Surfers rule the waves, and Nazis rule the surfers" Surf Nazis must die, it sounds just like a cheap 80s trash movie, and it's all of the above. While the movie was fun coming in, it actually seemed like it was pursuing out from its title. It was more talk than actual action, which is really different then what the title implies. Gail Neely was absolutely dreadful in her perofmance, while the rest of the cast was actually reasonably good. As the titl may imply, stay away from it.

For those of you that have been living in caves, and haven't seen this, this is a Troma "pick up" from 1987 that is a wonder to behold. To be truthful, it's fairly well done for what it is, which is "beachploitation trash". LA has been hit by "The Big One", 8.6, and it's pretty much anything goes, at least at the beach. Surf Nazis rule the beach, the waves, and whatever else their demented little minds tell them. Now, when a black man is killed by the Surf Nazis his mom, who is by no means ready for the rest home in which she's now living, decides to take matters into her own hands. There are also other rival surf "gangs" that don't take kindly to the claims of the SN's and attempt to fight back but with dire results. OK, sure, this is hokey and silly but it's also pretty fun, and I like the music & the beach scenes, in which it's all pretty deserted looking and lends some authenticity to the idea that there aren't many folks that actually survived this big quake, just a bunch of psychos fighting over surf supremacy. A classic 80's movie, fer shure.

This movie fails due too most of the movie being ok to quite boring. However, dispite the negatives, there were three really good aspects consisted in this film. First, some of the music they made for the movie was awesome and represented the 80's and the surfing atmosphere so well, not to mention that I love the music even on an individual basis. Secondly, some scenes were well constructed, notably the death of the old black lady's son where it showed quick scenes of what led to his death as it shows his mother walking down a corridor intertwined with the shots of her son's death. Thirdly, there were some parts that were halarious and they were pretty much any scene that had to do with the crazy, old, black lady. Thats why this movie failed, they focused way too much on the surf nazis which were not intersting and your regular gang/bad guys, where the old black mother was what we were interested in and I guarentee everyone who watches this movie will agree that they needed more of the old black mother and less of the surf nazis. In fact you could even compromise and have all the nazi footage in there, but they should have had way more footage of the old black mother. Towards the end you see her more because shes furfilling her revenge by killing all the surf nazi's and its great, but she has halarious parts earlier on too. Notably the scene where a surf nazi is talking to two girls about how a black guy tried to stop them and now hes gone(an obvious reference to the mother's dead son) and right out of the blue, the black mother runs up, grabs a hold of him, and slams him against the wall while holding his face against the wall and she yells, " Keep talkin' white trash". Then the awesome music starts which leads into surfing footage, which I thought was halarious. The fact that she came in so fast and the way its done is easly the best part of the film. Not to mention again, I love the music. However, know it sounds like I love this movie, but the downfall is that we don't see much of the mother until her son is killed and then we have to wait about twenty minutes before she starts planning her revenge on the surf nazis. Due to the factor, the film seems really boring for the most part and theres also lots of action sequences where the surf nazis face off against other gangs, but the fights are stupid, fast, and easily forgettable, so the only thing thats bringing anything to this movie is the music and the crazy, old, black, mother whos halarious and badass. If they had more of her, this movie would have been awesome. It would be awesome it was remade though!

This was a disappointment, being a Troma film and all, but it still gave me some entertainment and unexpected laughs. Wish they would've worked a plot into it, would've made it funnier.
See Details