S.W.A.T.: Firefight
(2011)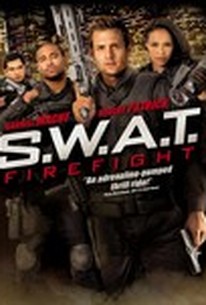 AUDIENCE SCORE
Critic Consensus: No consensus yet.
S.W.A.T.: Firefight Photos
Movie Info
A relentless government assassin (Robert Patrick) stalks the Detroit S.W.A.T. team in this explosive urban action thriller. Paul Cutler (Gabriel Macht) knows a thing or two about diffusing tense situations. An LAPD cop and anti-terrorism expert who accepts a job teaching hostage rescue tactics in Detroit, Cutler finds his reputation on the line after responding to a domestic dispute call black-ops hit man Walter Hatch (Patrick) and failing to save the hostage. Now, Walter is back, and he won't stop until the entire S.W.A.T. team is dead. Giancarlo Esposito and Kristanna Loken co-star.
Critic Reviews for S.W.A.T.: Firefight
All Critics (3) | Fresh (2) | Rotten (1) | DVD (1)
When it's not touting B movie stars like Loken and Robert Patrick, it does a damn fine job as an action film and a crime thriller...
Hardly fresh or original, but S.W.A.T.: Firefight is an enjoyable, action-packed follow-up to the 2003 original and one of the better DTV titles out there.
Amusing in the moment, with a merry junk food cinema rhythm, the low-budget follow-up isn't nearly as brawny as the original feature, electing video game stylistics and movie-of-the-week plotting to dream up a new adventure.
Audience Reviews for S.W.A.T.: Firefight
½
Sequel to S.W.A.T. is actually an improvement over the train wreck that was the original. I went in expecting something that would be quite bad, but was surprised that it was a decent straight to DVD title that was what the original should have been. Far from perfect of course, it has a much better storyline than the first, and although it was cheesy dialogue here and there, there is enough good, well crafted action scenes to make this a decent low-budget action film that is not too bad. Of course they could have made it better, but considering it's a sequel to S.W.A.T. which in my mind was a train wreck of a film, this is to be expected. Robert Patrick is a much better villain than the one in the original. This is a worthwhile film that although far from perfect is a mindless action ride that delivers some effective moments. I thought it was a decent affair that was much more enjoyable than the original theatrical release. For a straight to DVD release, this is quite impressive and it is a decent film that manages to entertain for what it was. This isn't a great film, but it is mindless action film that manages to be something fun to watch. I really liked it, but it manages to have a few bits here and there that were underdeveloped, but at the same time has something quite interesting going on-screen. If there would have been a rewrite or two, then S.W.A.T. Firefight would have been something truly awesome to watch. This straight to DVD sequel is what the original should have been and it is one of those rare films that have been released on DVD that is better than the theatrical release. Worth seeing if you were disappointed by the original.
"S.W.A.T.: FIREFIGHT has a different cast with a different plot, which was a bit disappointing honestly. I would have liked the cast from the previous film, but this one wasn't awful. The story wasn't too bad either. I didn't care for the insta love between Cutler and the cops psychiatrist. Once that happened the ending kinda wrote itself. The film had a set of decent actors. Their performances weren't amazing, but some did well enough. I like Gabriel Macht. The story ended up being too predictable for my taste. The action was good though. I enjoyed most of it. I would have liked it more if the story wasn't wrapped up in the first half of the film."
♥˩ƳИИ ƜѲѲƉƧ♥
Super Reviewer
The original was so good. What happened here? Why do they even bother making more when they are only trying half-assed? This wasn't really terrible, just had a made-for-tv quality about it. Such a shame..
Cynthia S.
Super Reviewer
S.W.A.T.: Firefight Quotes
There are no approved quotes yet for this movie.