Sweethearts of the Prison Rodeo
(2010)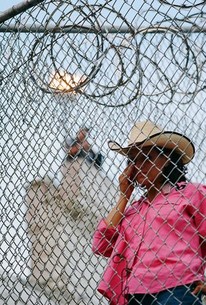 Sweethearts of the Prison Rodeo Photos
Movie Info
'Sweethearts of the Prison Rodeo' goes behind prison walls to follow convict cowgirls on their journey to the 2007 Oklahoma State Penitentiary Rodeo. In 2006, female inmates were allowed to participate for the first time. In a state with the highest female incarceration rate in the country, these women share common experiences such as broken homes, drug abuse and alienation from their children. Since 1940, the Oklahoma State Penitentiary has held an annual 'Prison Rodeo'. Part Wild West show and part coliseum-esque spectacle, it's one of the last of its kind - a relic of the American penal system. Prisoners compete on wild-broncs and bucking bulls, risking life-long injuries. For inmates like Danny Liles, a 14-year veteran of the rodeo, the chance to battle livestock offers a brief respite from prison life. Within this strange arena the prisoners become the heroes while the public and guards applaud.-- (C) Official Site
Critic Reviews for Sweethearts of the Prison Rodeo
Audience Reviews for Sweethearts of the Prison Rodeo
I've seen a couple prison rodeo documentaries (I'm still waiting on a prison boxing or football documentary) & they all seem to be the same.Sweethearts has to be the best of the bunch.It not only had just the female inmates but the male inmates in it as well which made it more interesting then the other 1's out there
Brody Manson
Super Reviewer
½
"Sweethearts of the Prison Rodeo" is an illuminating, yet repetitive, documentary about the Oklahoma State Prison Rodeo, the only rodeo held behind bars that has been operating since 1940. And 2006 is the first year women have been allowed to compete. What's stated is the possibility that the audience views this as gladiatorial combat, especially Make Money the Hard Way,(Trust me. They are not kidding.) and want to see blood. Me personally, I root for everybody to do well in the rodeo, and that rooting interest carries over into the convicts' everyday lives, hoping they turn them around. Actually, a good deal of the documentary deals with the women's lives outside of the arena behind bars. Of all states, Oklahoma has the highest incarceration rate and jails the highest percentage of women, 80% of whom are mothers. One person links their toughness to getting in trouble with the law but a lot of that toughness comes from surviving behind bars, separated from loved ones. Actually, jail time can be arbitrary and a lot of these women are in jail on drug charges.(One has been in jail for 13 years for murder and is now up for parole.) The rodeo serves as a form of positive reinforcement, strange as that may seem to those too frightened to ever think of riding a bull.(And the documentary provides another good reason not to.) In fact, the rodeo provides a jolt of adrenaline and a break in a nearly endless routine, not to mention for a very brief space of time, a taste of freedom.
Sweethearts of the Prison Rodeo Quotes
There are no approved quotes yet for this movie.