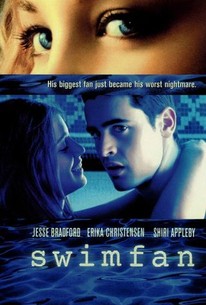 Swimfan
2002, Mystery & thriller, 1h 24m
93 Reviews
25,000+ Ratings
What to know
Critics Consensus
A Fatal Attraction rip-off, Swimfan is a predictable, mediocre thriller. Read critic reviews
Where to watch
Rent/buy
Rent/buy
Buy
Rate And Review
Movie Info
Ben Cronin (Jesse Bradford) has it all: the admiration of his many friends, a terrific girlfriend, and he's on the fast-track to an athletic scholarship. Ben's rock-solid, promising future and romance are turned upside-down with the arrival of Madison Bell (Erika Christensen). Madison, the new girl in town, quickly sets her sights on the impressionable Ben. While their first few meetings are innocent enough, the obsessive and seductive Madison wants more ... much more.
Rating: PG-13 (Language|Disturbing Images|Mature Thematic Elements|Sexual Content)

Genre: Mystery & thriller

Original Language: English

Director: John Polson

Producer: John Penotti, Allison Lyon Segan, Joseph Caracciolo Jr.

Writer: Charles F. Bohl, Phillip Schneider

Release Date (Theaters): wide

Release Date (Streaming):

Box Office (Gross USA): $28.6M

Runtime:

Distributor: 20th Century Fox

Production Co: Further Films, Forrest Films, GreeneStreet Films Inc.

Sound Mix: Dolby Digital, Surround, Dolby SR, Dolby Stereo, Dolby A

Aspect Ratio: Scope (2.35:1)
Audience Reviews for Swimfan
Swimfan has gotten a lot of flack due to it's similarities with Fatal Attraction. In fact it's been called a teen version of Fatal Attraction. I haven't seen Fatal Attraction so I couldn't compare, but this an average thriller with decent enough acting. I wouldn't say great, but certainly isn't awful. If you know the story of Fatal Attraction, then Swimfan follows the same path. Nothing original. I can't say that Simfan is a great film, because it isn't. But the film entertained me and it did have something going for it. But this is a pure, mindless thriller that follows the fatal attraction formula. The cast do what they can with a derivative script, and it feels at times lazy, and it shows. Swimfan is a guilty pleasure, and I admit I liked it somewhat cause it was entertaining, but it was fairly borderline average most of the time. Swimfan is the type of film that should be seen when you're bored and you're looking for something mindless, then Swimfan is the film to watch. But be warned, you won't find anything great in this film, maybe it'll entertain you, and and the same time you'll feel that theres something missing. I find the film to be borderline good and I;'d give a 5 out of 10. This may not be the best film, but I've seen my fair share of trash, and this is far from the worst film ever made. Swimfan is what I'd a guilty pleasure film, and it most certainly should be seen that way.

Swimfan aka Teenaged Fatal Attraction Despite a bit of drugs problems in his past, Ben Cronin (Jesse Bradford) is now the best swimmer in his high school and has a promising future ahead of him. He is popular, he has a sweet and lovable girlfriend Amy (Shiri Appleby), who is madly in love with him, a nice SUV and the top universities are watching him. Enter new girl Madison (Erika Christensen), a cello-playing blonde nymphet with an attitude. After a couple of 'chance' encounters, Madison gets Ben to the pool, reveals she can't swim, and, stripping down to her lacy French underwear, gets him to teach her. Gee, can anybody see where this is heading? After swearing that intercourse would be their 'secret' she coaxes him to say "I love you" as he climaxes, but immediately after the deed, two timing Ben is wracked with guilt as this jock is looking for nothing more than a brief dalliance. However Madison is not a girl to take "no" for an answer! She begins an obsessive campaign to win him back and now our hero is the recipient of constant reminders of The Night of Sin, such as flowers on his locker, panties in his truck, and a bombardment of e-mails with near-naked photos of the Swinging Cellist. When he confronts naughty Madison, and tells her to get out of his life, her obsessions quickly spiral out of control into betrayal, and madness. That's when his friends start to turn up dead and other mysterious occurrances begin to happen..... A watered down high school version of Fatal Attraction, except without the surprises, hot sex, half-decent script and the ending is just ridiculous. The only redeeming factor for me was seeing Jesse Bradford in a Speedo.

A very underrated edge of your seat thrilling romance of a film. I can't say I love it, but it is very good. Jesse Bradford has not had the chance of being in many good films, and yet, this is one of his best.

I only watched this because it was the only thing on tv in the middle of the night when I was still awake. It was pretty much fatal attraction all over again but terrible.
See Details